15 Triumphant Photos Show Thousands of Refugees Being Welcomed Into Germany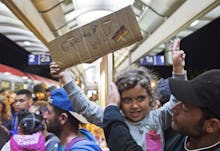 This week, more than 7,000 refugees — mainly from war-torn areas in Syria, Iraq and Afghanistan — were welcomed into Germany as the Hungarian government ejected them from Hungary.
Hungary's far-right government, which has taken harsh stances towards what it sees as an unwanted mob, took the migrants by bus to Austria, after which the German and Austrian governments received them. Once they had crossed the border into Germany, the Associated Press reports they were greeted with "wholly unexpected hospitality featuring free high-speed trains, seemingly bottomless boxes of supplies, and gauntlets of well-wishers offering trays of candy for everyone and cuddly toys for the tots in mothers' arms."
Children and adults alike were taken aback by the rich greetings, which came amid disapproval from socially conservative elements from German Chancellor Angela Merkel's center-right coalition government. As her government prepares to hold crisis talks, however, NBC News reports most Germans seemed much more interested in welcoming the migrants than worrying about the cost of accepting them.
Photos captured the tender scene as the migrants arrived:
Munich Mayor Deiter Reiter told the Guardian, "Of course there are some limits responding given the space we have in Munich but that is not the question I am asking myself."
"Every day I am asking myself how can we accommodate these people, these refugees, how can we give them a feeling that they are safe here in Munich, here in Germany. I am not really thinking about how many people can we afford and can we take here in Munich. That is not the question," he continued.
The displaced persons were greeted with giant piles of badly needed supplies.
7,000 migrants also stayed in Austria, where they received a warm welcome.
On Sunday, Pope Francis called for churches and other religious groups across Europe to shoulder the burden of caring for the refugees, asking each parish on the continent to take in at least one family of migrants.
Watch more video below:
Correction: Sept. 6, 2015
This article has been updated to clarify that refugees in Hungary crossed into Germany through Austria. Germany and Hungary do not share a territorial border.