Zelda Williams Just Nailed Some Powerful Truths About Grief and Depression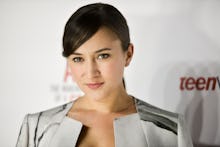 Zelda Williams, the daughter of late actor Robin Williams, has written a hopeful message on Instagram discussing the grief of her father's suicide in 2014 and how she coped with her feelings of immeasurable loss.
The 26-year-old actress says the post is intended to help others struggling with depression find their way through dark times. Since her 63-year-old father's death following a Parkinson's disease diagnosis and a long fight with depression, she has become an advocate for mental health. 
Here's the full message accompanying the above photo:
"Moonrise on the lake." 
"I spent this night shivering and laughing under a clear, cold sky full of stars with people I love just to witness something beautiful. We mooned the moon and laughed ourselves hoarse, and I'm so incredibly grateful for every silly second."
"I came to a realization this year that I feel compelled to share here, for whomsoever may need it: Avoiding fear, sadness or anger is not the same thing as being happy. I live my sadness every day, but I don't resent it anymore. Instead, I do it now so that the wonderful moments of joy I do find are not in order to forget, but to inhabit and enjoy for their own sake."
"It's not easy. In fact, I'd say it takes much more effort to consciously do than it does to just stay sad, but with all my heart, I cannot tell you how worth it it is. And for those suffering from depression, I know how dark and endless that tunnel can feel, but if happiness seems impossible to find, please hold on to the possibility of hope, faint though it may be."
"Because I promise you, there're enough nights under the same yellow moon for all of us to share, no matter how or when you find your way there."
On July 21, 2015, which would have been Robin Williams' 64th birthday, Zelda Williams posted a photo of lights breaking through the clouds to the same Instagram account and said she would be taking a break from social media."
Last year, Zelda Williams took to social media on World Mental Health Day to coach others on the importance of taking mental health seriously.
In the wake of Williams' death, many others took to the internet to offer insight into depression and its dramatic impact on Williams and others.
"Imagine what it takes to convince a man of Robin Williams's passion and character that life is often an exercise in punishing misery and death is the sensible answer to it," The Daily Banter's Chez Pazienza wrote last year. "If you can do that, you can begin to grasp how deeply depression runs and how tragic its impact is."