Walter Palmer Has Finally Given His First Interview About Cecil the Lion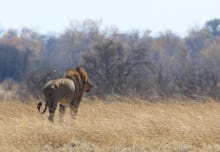 Walter Palmer, the Minnesota dentist who infamously shot and killed Zimbabwe's famous Cecil the lion in July, has given what he says will be his first and only interview.
"If I had known this lion had a name and was important to the country or a study obviously I wouldn't have taken it," Palmer told the Associated Press. "Nobody in our hunting party knew before or after the name of this lion."
In a 20-minute session with two reporters from the Star Tribune and Associated Press, Palmer mainly avoided specific questions about the circumstances of Cecil's death and said he would be returning to his dental practice soon to serve the needs of his patients and staff.
Palmer reiterated that he didn't know the lion he slew was Cecil, a major tourist attraction at Hwange National Park in Zimbabwe, or that the hunt in which he was partaking was illegal. Palmer also said accounts of Cecil's suffering were exaggerated and that the hunt was humane.
Palmer said he was "heartbroken" at the level of online and offline hate he received after news of Cecil's death hit international news, adding that the threats scared his family.
"This has been especially hard on my wife and my daughter. They've been threatened in the social media, and again [...] I don't understand that level of humanity to come after people not involved," Palmer said. "I've been out of the public eye. That doesn't mean I'm in hiding.
"I have a lot of staff members, and I'm a little heartbroken at the disruption in their lives. And I'm a health professional. I need to get back to my staff and my patients, and they want me back. That's why I'm back."
According to Palmer and his legal adviser, Joe Friedberg, Palmer did not break any laws and they have not heard from any authorities about investigations into Cecil's death. The Associated Press reports two individuals involved in the hunt who reside in Zimbabwe, Theo Bronkhorst and Honest Ndlovu, have been charged with illegal hunting-related offenses.