This Grieving Family Used Their Daughter's Obituary to Call Attention to a US Epidemic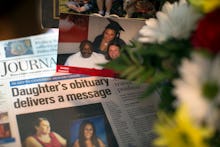 An Ohio family is attracting national attention for refusing to hide the circumstances of their 18-year-old daughter's death.
Alison Shuemake of Middletown, Ohio, died Aug. 26 after overdosing on heroin, another tragic casualty of the ongoing heroin epidemic in the United States.
But where many families would have requested the potentially stigmatizing cause of death private, Shuemake's family is campaigning for more awareness of heroin-related deaths.
Her obituary lets readers know she died of a drug overdose. A version of the obituary on Legacy.com describes her as "funny, smart, gregarious, tenacious and strong-willed," noting she played "basketball, softball and soccer" as well as clarinet and violin.
"There was no hesitation," her mother, Dorothy McIntosh Shuemake, told the Associated Press. "We've seen other deaths when it's heroin, and the families don't talk about it because they're ashamed or they feel guilty. Shame doesn't matter right now.
"What really matters is keeping some other person, especially a child, from trying this. We didn't want anybody else to feel the same agony and wretchedness that we're left with."
According to the Associated Press, Butler County, Ohio, where Middletown is located, has already seen 86 heroin-related fatalities in the first six months of 2015. In 2014, 103 people died — up from a few dozen just a few years earlier.
Data released earlier this year by the Centers for Disease Control and Prevention show heroin use across the country has increased dramatically since 2002, with heroin use rising approximately 63% over that time period. Over half a million people reported using heroin in the past year in 2013, while over 8,000 died of overdoses.