This Award-Winning Novel Was Just Banned in New Zealand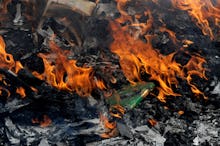 For the first time in more than 20 years, New Zealand placed an interim ban on a book. Ted Dawe's teenage novel, Into the River, has been banned effective Sept. 3, after the conservative Christian group Family First successfully lobbied against it. The Film and Literature Board of Review, responsible for the decision, explained "no one in New Zealand can distribute, or exhibit, the book." 
The board is scheduled to make a permanent decision regarding the ban in October. Anyone who violates these terms until then can be fined $3,000 NZ ($1,876), with a possible $10,000 NZ ($6,253) for companies attempting to distribute it.
Controversial content: Into the River is a coming-of-age tale about a Maori (aboriginal New Zealander) boy who goes to a private boarding school on a scholarship and subsequently grapples with racism, drugs and sexual discovery; it won the 2013 New Zealand Post children's book of the year award.
He "doesn't so much speak the language of teenagers as [he] takes hold of it and turn[s] it into something new, a kind of poetry of the street," the Book Council of New Zealand said of Dawe, according to his Taylors College profile, where he is also the director of studies.
However, Family First describes Into the River as "laced with detailed descriptions of sex acts, coarse language and scenes of drug-taking" and requested a restriction under the Films, Videos and Publications Classification Act 1993 be applied to the book.
"The Bill of Rights states that 'freedom of expression' and 'freedom to access information' considerations do not automatically trump the laws that were written to allow censorship to be applied to protect the public good," Bob McCoskrie, national director of Family First New Zealand, said in a media release. 
Freedom of speech? This landmark censorship decision ignited a strong reaction among its dissenters. Those against the ruling took to Twitter to express their dismay and some called on those who support free speech to protest the ban.
Dawe argues his book is important in its ability to speak to teenagers and deal with relevant issues, which are often not addressed. The decision to censor it concerns the author, particularly as it relates to his country's social and political landscape.
"Will I be burnt next?" Dawe asked in a New Zealand Herald interview. "It's extraordinary. I've had quite a few emails from people who share that sense of outrage. Do we live in a country where books get banned? I'll get burnt next.
"I feel they have wildly overstepped the whole mechanism of looking at art and making judgments on it. New Zealand has taken a giant step towards that sort of regulatory moralizing that I think most people felt we had left far in our past."