Jon Hamm and Jennifer Westfeldt Break Up After 18 Years, and Everyone's Bugging Out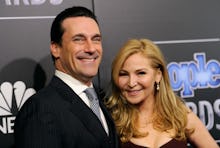 Break out the Scotch and a pint of the Mad Men-themed Ben & Jerry's flavor Sterling Scooper: Your favorite Hollywood couple has decided to call it quits. 
Jon Hamm and Jennifer Westfeldt, your #RelationshipGoals incarnate, have become yet another casualty of the Summer of Celebrity Breakups. The two have broken up after 18 years together, People reports.
"With great sadness, we have decided to separate, after 18 years of love and shared history," Westfeldt and Hamm said in a joint statement. "We will continue to be supportive of each other in every way possible moving forward." 
Do you need a minute? It's OK if you need a minute.
Hamm and Westfeldt, who wrote and starred in the 2001 cult classic Kissing Jessica Stein, have been dating since 1997. They also starred together in the 2011 movie Friends with Kids, which Westfeldt also wrote. 
Although the two have been plagued by breakup rumors since earlier this year, their union appeared to be going strong, with Hamm's rep crediting Westfeldt for supporting him during his stint in rehab in March. 
The two have long been the poster couple for happily unmarried unions, with Hamm telling Parade magazine in 2010 that he and Westfeldt don't want to get married because they don't have the "marriage chip."  
"Neither of us have the greatest examples of marriages in our families," he told the magazine. "But Jen is the love of my life, and we've already been together four times longer than my parents were married."
Naturally, people on Twitter are freaking out about the breakup:
Although some Mad Men fans are just happy that Don Draper is back on the market:
Control your thirst, ladies. There's more than enough Hamm to go around for all of us. 
h/t People