This Is the Conversation We Need to Be Having About Trans Models in Fashion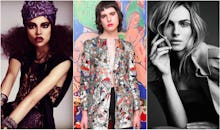 "This is not just a gimmick."
When a bevy of models wearing high-end clothes start marching down the runways this Thursday, kicking off New York Fashion Week, gimmicks will abound. Designers may accessorize models with political slogans, or hover drones over their well-coiffed heads, or send an entire step team dancing down the runway — anything to invite extra attention.
Putting trans models on the runway, in the words of model Andreja Pejic, shouldn't be one of them.
It's a delicate line to walk, though, as the fashion industry aims to celebrate transgender individuals without using them just to make some headlines. Because for all the progress touted in media, fashion's uncertain relationship with trans individuals reveals the challenges trans people still face in mainstream spaces that are increasingly, but yet not entirely, accepting of them.
Acceptance, not just when it's convenient: The past year has seen an amazing increase in the visibility of transgender models. In May, Hari Nef became the first globally signed transgender model for top agency IMG. Pejic, formerly known as Andrej, become the face of Makeup Forever, a lucrative deal and thus a notable step forward.  
All of this also comes after a year of other notable transgender firsts, including Lea T becoming the spokesperson for Redken and a multimedia campaign for Barneys featuring 17 transgender men and women.
News of these awesome gigs are framed as headline-making and history-writing, as opposed to, well, normal stories of models at work. That's in part because there are simply fewer trans models, but also because "gender-bending" and androgyny still have a quirky, exotic appeal in the fashion world.
Pejic's career is evidence of this fraught dynamic. The Bosnia-born model had already established a successful career modeling as an androgynous male before coming out and transitioning in 2014. Her appeal as a male model at the time was on-trend, given the ongoing blurring of gender norms on runways. There was an inherent sexiness, too, to Pejic's androgynous look. 
Tokenism at work: That trendy fluidity was what mainly appealed to fashion insiders, Pejic told Vogue this year, as evidenced by the negative reaction to news of her transition. 
"'There was definitely a lot of 'Oh, you're going to lose what's special about you. You're not going to be interesting anymore. There are loads of pretty girls out there,' " Pejic told Vogue. "It's better to be androgynous than a tranny," one agent reportedly told her, a reminder that her gender, no matter where it fell, was to be treated more as shtick than a deeply personal identity.
This "ever-present specter of tokenism," as the New York Post put it, is the reality for plenty of trans models, affecting both the work they get and the attitudes they confront on the job. 
"I think in general the fashion industry is just fickle," trans model Arisce Wanzer told the Hairpin in 2013. "They just don't give a fuck. If it's not trendy right now, it's dead to them. And so often, they're like, 'We already have a tranny. We already have a black girl.'" 
The unpleasant reality of the workplace: So Wanzer now works with Apple Model Management, which in July became the first agency in the United States devoted exclusively to trans models. 
For a handful of trans models, the agency presents an opportunity to directly connect with brands that are accepting of their trans identity from the get-go. It also eliminates a tremendous pressure on the models to conform in work environments where tradition reigns, Cecilio Asuncion, the director of Apple's Los Angeles branch, told Mic.
"[It aims to] take away all of that pressure because trans women have been in agencies before... [and] had to be put under the women's board or the men's board," he said. "With us, no, come to us and we know your truth, we know your versatility."
That's crucial for trans models who, despite the rising profiles of Nef and Pejic, still face practical challenges at work. Wanzer told Mic how, throughout her 10 years of modeling, she's often come across agencies that have explicitly and implicitly stated they already had one transgender model on the books and weren't in need of another. The constant rejection was frustrating, she said.
"I'm tired of having to hold the same beauty standards as other models and not getting the same work," Wanzer said. Even with an agency, she's still left out of many casting calls, rarely getting the opportunity for basic gigs such as "girl with brown hair" because of the "trans thing." 
"You're working just as hard as [non-trans models] are to look like this," she said to Mic. "And, you're not getting the same opportunity. That's what's so shitty about it."
The ultimate goal of label-free inclusion: Despite the current need for special attention and effort, mainstream acceptance is the endgame, Asuncion told Mic. 
"The real goal is for the trans community who have model potential to find a home that would accept them and hone their talents to be the best possible model they can be," he said. 
Gender, he added, shouldn't matter: "It's really, you know, you're a model first and a trans person second."
Some designers are getting there. In March, Dazed chronicled the rise of lesser-known designers who cast trans models not because they're trying to make a statement, but because they want good models.
"Clothing is constantly evolving, so that should be parallel with casting decisions. We only had about four trans girls in a cast of around 16 so it wasn't really about making a statement," designer Vejas Kruszewski told Dazed. "It didn't matter if it was a boy, a girl or a trans girl — it was about their persona."
"It didn't matter if it was a boy, a girl or a trans girl — it was about their persona."
It remains to be seen if big-name designers, not to mention regular retailers, will do the same. True progress, Asuncion said, will see companies like Target hiring transgender models for typical, run-of-the-mill ads for items like detergent.
In the meantime, Pejic is featured alongside other men and women in a new Kenneth Cole campaign, blending in seamlessly in subway ads in New York. Below her photo is a short descriptor: "Transwoman and model." 
It would be hard to readily identify Pejic as transgender by her looks alone, but with the caption in the ad, there's no mistaking it. It's a positive affirmation of her identity, but one that emphasizes a part of her that, in the fashion world or elsewhere, shouldn't matter much at all.