Germany Is Ready to Accept 500,000 Refugees Per Year — Here's What the US Is Doing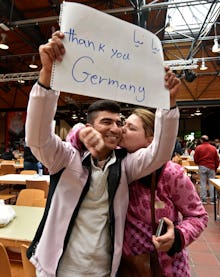 Germany said it will accept at least 500,000 migrants a year, for several years, as the refugee crisis across Europe swells. This year alone, the country predicts that number could be as high as 800,000, or 1% of the German population. 
"I believe we could surely deal with something in the order of half a million for several years," Vice Chancellor Sigmar Gabriel told ZDF public television, the Guardian reports. "I have no doubt about that, maybe more." 
As many as 20,000 migrants entered Germany over the weekend after traveling through and being rejected by Hungary, which has positioned itself as staunchly anti-migrant. Germans welcomed the migrants with smiles, gifts, donations and signs. Approximately 100,000 migrants arrived in August alone.
"I am happy that Germany has become a country that many people outside of Germany now associate with hope," Chancellor Angela Merkel said Monday, according to Fortune. "This is something to cherish when you look back at our history."
While Gabriel told ZDF that Germany was economically robust enough to absorb migrants, he also argued it's incumbent upon the rest of Europe to share the burden as other countries should also be prepared to accept the influx of migrants. 
This is not a single incident — this is a new era. "The wave of migration is not a one-time incident but the beginning of a real exodus, which only means that we will have to deal with this problem for many years to come," European Union President Donald Tusk said, according to the Guardian.
On Wednesday, EU chief Jean-Claude Juncker will reportedly propose an edict, mandating some EU countries must collectively accept 160,000 refugees, a plan Merkel backed. Furthermore, the EU announced it would hold emergency talks Sept. 14 on how to tackle the refugee crisis. 
While the United Nations High Commissioner for Refugees "applauded" Germany and Austria for welcoming those in need, it also warned hundreds of thousands of migrants have yet to arrive in Europe and plans should be in place for receiving. 
Fights broke out Tuesday on the Greek island of Lesbos as around 20,000 migrants — mostly Syrian, Iraqi and Afghan — were forced to wait for long periods to have their papers processed and take a boat to the mainland. European border agency Frontex has offered its help to Greece, which is dealing with migrants at unprecedented numbers.
German officials maintain compassion, and not capacity, should dictate the treatment of migrants. "Of course there are some limits responding given the space we have in Munich but that is not the question I am asking myself," Dieter Reiter, mayor of Munich, which received 18,000 migrants over the weekend, told the Guardian. 
"Every day I am asking myself how can we accommodate these people, these refugees, how can we give them a feeling that they are safe here in Munich, here in Germany. I am not really thinking about how many people can we afford and can we take here in Munich. That is not the question," Reiter said.
Meanwhile, America is being accused of inaction. Thus far, there have been no plans to amend the migrant program in the United States, which allows for up to 70,000 to enter the country annually. The Obama administration has said only that they are "considering" a response and are in "regular contact" with relevant countries.
"The administration is actively considering a range of approaches to be more responsive to the global refugee crisis, including with regard to refugee resettlement," the White House said in an emailed statement, according to the Telegraph. "We are also in regular contact with countries in the Middle East and Europe who have been greatly impacted by the increased refugee flows."
There is mounting public pressure for the U.S. government to offer more assistance and accept more refugees. While Peter Sutherland, the U.N.'s special representative for migration, admitted the United States has been sending financial aid to improve the lives of Syrians, but told the BBC more action is required. "Buying your way out of this is not satisfactory," he said.
Among the online petitions circulating is an Aug. 31 White House petition, which requires a minimum of 100,000 signatures by Sept. 30 to be formally considered by the administration. At the time of this article's publication, there were over 49,000 signatures. 
"The U.S. has historically been the world leader in recognizing the moral obligation to resettle refugees," said David Miliband, president of the International Rescue Committee and former British politician, the Telegraph reports. "But in the four years of the Syria crisis there has been inertia rather than leadership."