New Report Finds Climate-Smart Cities Could Save the World $22 Trillion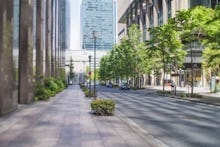 Promoting green cities could save the world $22 trillion and remove enough carbon from the atmosphere to offset the entire nation of India, a group of leading economists have found.
The news: A new report by the Global Commission on the Economy and Climate concluded that concerted efforts at carbon reduction in cities could reduce costs in areas of waste management, transportation and building and generate between $17 trillion and $22 trillion in savings by 2050. The group also found that those same efforts would prevent the release of 3.7 gigatons of greenhouse gas emissions per year, which is more than India's current annual output, by 2030, the Guardian reported.
"The steps that cities take to shrink their carbon footprints also reduce their energy costs, improve public health, and help them attract new residents and businesses," Michael R. Bloomberg, the UN Secretary-General's Special Envoy for Cities and Climate Change, said in a press statement released to Mic. "This report can help accelerate the progress cities are making in all of these areas, by highlighting smart policies and encouraging cooperation."
The Commission, an independent group of finance ministers and research institutions from the United Kingdom, Colombia, Ethiopia, Indonesia, Norway, South Korea and Sweden, refuted claims often made by critics that economic growth and emission reduction are mutually exclusive. 
"There is now increasing evidence that emissions can decrease while economies continue to grow," Seth Schultz, a consultant on the report, told the Guardian. "Becoming more sustainable and putting the world — specifically cities — on a low carbon trajectory is actually feasible and good economics."
The report calls on leaders to commit to measures designed to promote low carbon futures by 2020 and will likely loom large at world climate negotiations in Paris this December.
The current situation, and the need to change: While cities have experienced explosive growth over the last century, there is still a long way to go. Today only about 3.5 billion people live in cities, with another three billion or so set to join their ranks by 2050. According to the World Urban Forum, 96% of those new urbanites will be in developing countries, with African nations' urban populations set to grow at twice the rate of the rest of the world. 
Urban planners have long known that cities were naturally more efficient than depopulated rural or suburban areas. City-dwellers, living in apartments, typically require less energy to heat and cool their homes, are more likely to eschew cars for public transportation and require overall less living space. Studies have shown that the denser cities are, the greener they become. The economic and environmental benefits of increasing city populations are part of the reason why China is literally forcing 250,000,000 of its people to urbanize over the next dozen years.
"There's this feeling that we have to modernize," Gao Yu, China country director for the Landesa Rural Development Institute, told the New York Times. "We have to urbanize, and this is our national-development strategy."
Once a distant terror, the effects of climate change feel increasingly close: hotter summers, stronger hurricanes, melting sea ice, countries potentially vanishing beneath rising seas. With Earth rapidly becoming a global city, and the lion's share of emissions expected to come from the developing world, the commission's recommendations could not be more timely.