Apple Keynote Fall 2015: Latest iPhone 6S, iPad Pro and Apple TV News and Rumors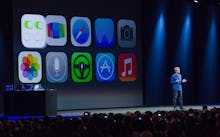 Thousands of tech bloggers, consumers and Apple fans alike will descend Wednesday on the Bill Graham Civic Auditorium in San Francisco for this year's long-awaited Apple keynote event(For a full recap of the event, click here.. The company appears to be readying three new products for launch: the latest in the series of iPhones, the iPhone 6S and iPhone 6S Plus, a new installment of the Apple TV boxes and an iPad Pro version of the popular tablet. 
The newest iPhone is expected to have several upgrades, with some tech sites reporting a gigantic leap in camera quality, according to the Telegraph. A newer version of the iPhone 6 will likely feature a 12 megapixel dual-lens camera and the ability to record in 1080p video at 60fps on the front-facing camera. 
CNET is also reporting the latest iPhone will have a better camera, as well as a faster processor and something called "force touch," which essentially allows users to have more efficient control over their phones by pulling up sub-menus when simply holding a thumb over the home button. 
If you're a fan of "monster"-sized screens, you may need not have to look any further then the latest installment of the Apple iPad. Tech blog 9to5Mac reports two new versions of the iPad will be announced at Wednesday's keynote event, an even larger iPad pro, as well as another iPad mini. 
The devices will feature more storage, 64GB to be exact (a 128GB model is expected to be released as well), the ability to fully run apps side by side and will be the first device using iOS9 from the very beginning.
The newest edition to Apple TV is also expected to be unveiled Wednesday at the keynote event. The New York Times reports the latest upgrade will place more emphasis on gaming than its predecessors, as well as other competing streaming services. Three new additions to the streaming service might also include a remote that also serves as a controller, a new app store for audiences to purchase and download games for the Apple TV and better graphics components that will allow for a better gaming experience. 
However, it's still unclear exactly how user friendly and realistic these new games will be. The New York Times reports there may be a growing market for this type of gaming, however, as most consoles typically cost consumers anywhere from $300-$500, with a starting price of $150, the newest Apple TV could pose itself as a top contender not only in the streaming sphere, but the gaming world as well. 
Apple's keynote event begins 10 a.m. Wednesday, Sept. 9. Check out the live stream of the latest announcements and additions to Apple through its live stream of the event here.