19 Stunning Photos From Redhead Days, the Biggest Gathering of Redheads in the World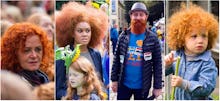 It's not easy being different. But it can be beautiful.
Thousands of people gathered in one gorgeous mass this past weekend, in what's reportedly "the original and largest gathering of redheads in the world." The Redhead Days festival, which took place over Sept. 4 to Sept. 6 in the Dutch city of Breda, brought together people of all ages and nationalities to celebrate one thing that makes them different: their red hair.
It's a distinguishing characteristic that few people on this planet share. Only about 2% of the world's populations are natural redheads, according to the BBC, and it's a feature that can garner negative attention. Sperm banks have refused to accept specimen from red-headed men, ginger guys are often viewed as less sexy and "uncool," and redheads across the board can face "gingerism" bullying.
But ginger pride is stronger. Just see the new MC1R magazine, dedicated to redheads; or several beautiful photo series showcasing gingers' sexy sides; or, of course, the photos from this weekend's massive redhead pride fest.
This weekend, 5,000-6,000 redheads and 40,000 people total attended Redhead Days, the festival organizers told Mic, a similar figure to last year. But this year, the 10th annual Redhead Days coincided with the 125th anniversary of Vincent Van Gogh's death. 
So set the festival theme, which was dedicated to famous redheaded Dutch artist with Van Gogh exhibits, tours and those ubiquitous sunflowers. There was even a fashion show, and a photo shoot with over 1,700 redheads in a single pic.
All redheads share certain experiences, festival founder Bart Rouwenhorst told Mic.
"They have experience in standing out in a crowd, they have experience in getting positive and negative attention because of their looks, they experience that they can be very sensual and desirable, they experience that they burn fast in the sun, that they can wear certain colors best," he wrote in an email.
But beyond the follicle friendships, every redhead is different in their own way. Said Rouwenhorst, "The redheads show at the festival that being different does not mean that you should hide the thing that makes you different. On the contrary, you should make it your strongest point and you should celebrate it big time and let the world know that it is great."
Check out the photos (several by fellow redhead Robbert Nooijen) below.
Sept. 8, 2015, 10:54 am: 
This post has been updated with comments from the festival founder.