This Woman Is Covering Up Domestic Violence Survivors' Scars With Beautiful Free Tattoos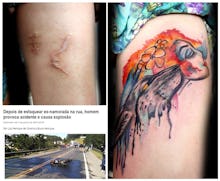 Although domestic violence in America has traditionally been shrouded in silence, we've started to become more familiar with survivors' stories and what the effects of long-term spousal abuse look like. But even after the wounds heal, many survivors are left with scars on their skin. That's why one tattoo artist is helping domestic violence survivors cover the physical reminders of trauma with a powerful project. 
Flavia Carvalho, a Brazilian tattoo artist, is offering free tattoos for women who have experienced intimate partner violence or mastectomies, covering their scars with intricate, stunning and personal designs.
The project, "A Pele da Flor" ("The Skin of the Flower"), began two years ago, when a client came to Carvalho hoping to cover a scar on her abdomen, which she got when she rejected a man at a nightclub and he retaliated by stabbing her with a switchblade.
"When she saw the finished tattoo, she was extremely moved, and that deeply touched me," Carvalho told the Huffington Post. "I was suddenly struck by the idea of providing free tattoos to women who were left with scars following domestic violence or mastectomies. Each tattoo would act as an instrument for empowerment and a self-esteem booster."
It's about more than moving on: In addition to helping domestic violence survivors live without the physical reminders of past abuse, Carvalho's project seeks to help them reclaim their bodies and feel proud of their own accomplishments. It's a crucial step in helping them reclaim their lives. 
"It is wonderful to see how [survivors'] relationship with their bodies changes after they get the tattoos," Carvalho said. "I follow many of them on Facebook, and I see how, after being ashamed of their scarred bodies, they now post pictures in dresses, and they look happy, changed. It is transformative."
Other free service projects geared toward survivors have had similar effects on women's well-being, and research from New York University's Institute for Policy Integrity has found that access to such services can have a significant positive effect on survivors' mental and physical well-being. 
A California moving company, Meathead Movers, recently began offering free moving services for survivors of intimate partner violence, recognizing its ability to "help provide a fresh start" for abuse survivors. Reshma, an acid attack victim in New Delhi, recently uploaded a "makeup tutorial" that raises awareness of the frequency of such attacks in India and empowers domestic violence survivors to take control of their recovery process. 
There's more work to be done: An estimated 1 in 4 women will experience domestic violence in her lifetime. As the rate of abuse makes clear, we still need more services — and more empathy — for survivors. 
Carvalho's tattoo project is a key example of the work we can do to support  these women. "It is a grain of sand; the world is full of things that need to be addressed," Carvalho said of her project. "We have a long way to go regarding protecting women against violence."