2016 Presidential Debates Schedule: Here's Your Upcoming GOP and Democratic Debates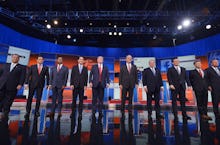 As Republican and Democratic presidential hopefuls continue the race for the White House, senators, governors and business tycoons alike are traveling the country to gain support for their campaigns. 
The debate season is heading into full swing, with the opportunities for Americans to see top-polling Democrats Hillary Clinton and Bernie Sanders match off, while the GOP continues to fight against the landsliding Donald Trump.
Here is when the highly anticipated upcoming GOP and Democratic debates will kick off:
Republican debates: Scheduled for Sept. 16 at the Reagan Library in Simi Valley, California, the CNN Republican Primary Debate will be the next in the GOP primary season. More than a month later, on Wednesday, Oct. 28, CNBC will host a debate at the University of Colorado in Boulder. 
November will bring a GOP debate hosted jointly by Fox Business and the Wall Street Journal. That event is slated to take place in Wisconsin, but the exact location and date are still undetermined.
Democratic debates: The first debate scheduled for the Democratic primary season is being held Tuesday, Oct. 13 in Nevada. CNN is hosting the debate, which will potentially include frontrunners Hillary Clinton and Bernie Sanders, along with Martin O'Malley and possibly even Vice President Joe Biden, if he chooses to enter the race.
CBS News will host the following debate in Des Moines, Iowa, on Saturday, Nov. 14, with moderator John Dickerson. ABC News and WMUR will host the third Democratic debate event in Manchester, New Hampshire, on Saturday, Dec. 19. 
The leading GOP and Democratic candidates will have three chances throughout 2015 to make their mark among voters during the national debates. To see the full debate schedules for the Republican and Democratic primaries through 2016, check here.