Freddie Gray Civil Lawsuit Settled With $6.4 Million Payout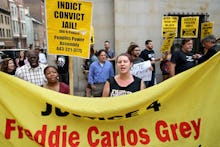 A wrongful death settlement of $6.4 million has been reached for the civil case between Baltimore officials and the family of 25-year-old Freddie Gray, the Washington Post reports. Gray died while in police custody in April, sparking city- and nation-wide protests about police brutality under the banner of "Black Lives Matter."
The Washington Post reports that a press conference detailing the terms of the settlement, including whether or not the settlement states Baltimore police officers take responsibility for Gray's death, could happen Tuesday or Wednesday, but the city's Board of Estimates must still approve the deal.
The settlement amount equates to more than the total payouts of the previous 120 lawsuits "brought against the police department for alleged brutality and misconduct since 2011," the Baltimore Sun reports.
Despite settling the civil case, six officers still face criminal charges for the death of Gray. While the city is accepting civil liability in the case, the Baltimore Sun reports the agreement does not "does not acknowledge any wrongdoing by the police," which means it's too early to tell how this might affect the eventual criminal cases.
On May 1, Baltimore City State's Attorney Marilyn Mosby announced the six officers, Caesar R. Goodson Jr., William G. Porter, Brian W. Rice, Edward M. Nero, Garrett E. Miller and Alicia D. White, would face criminal charges up to and including second-degree murder and manslaughter. 
Protesters have been demanding Baltimore city officials take responsibility for Gray's death, who died of a "catastrophic" spinal injury after events stemming from an April 12 arrest. His death on April 19 and reports detailing his arrest, including the fact he was handcuffed without a seatbelt while in a police van, spurred national outcry for police reform.
Demonstrations began in Baltimore on April 27, the day of Gray's funeral, and continued to spread throughout many cities in the United States in May. Police arrested more than 100 protesters during a New York demonstration.