GoPro Odyssey 3-D Camera: Price and Where to Buy Virtual Reality Video Technology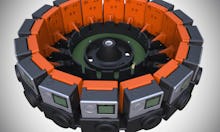 GoPro's Odyssey camera could bring virtual reality viewing to a whole new level and, steep price tag aside, make more 3-D video content available on the web. The camera rig is part of Google's Jump video recording platform, the company's attempt at revolutionizing 360-degree immersive content, and is made up of 16 GoPro Hero4 cameras assembled in a circle — no duct tape required. 
The Odyssey records a scene from 16 different angles and then assembles the footage within Jump's framework. Google says that soon, users will be able to upload that content to YouTube, letting others navigate spaces in 3-D by simply grabbing and dragging the video screen with their cursors.
GoPro first announced it had a 16-camera video recorder in the works for Google in May. 
"Virtual reality is a promising new innovation with incredible potential for commercial and artistic applications," GoPro president Tony Bates said in a statement,TechCrunch reports. "With Odyssey and Jump, GoPro is encouraging content creators to pioneer the new technology — to capture, edit and share immersive content. We already know that GoPro users are some of the most talented content creators in the world, so we can't wait to see how the professional community will use Odyssey to capture life's most memorable moments in a whole new way."
The Odyssey, available beginning in November, won't be cheap: It's expected to cost around $15,000, Engadget reports. That includes camera mounts, cables, 16 memory cards and 16 GoPro cameras. The cameras alone account for about $8,000 of the total cost.
The camera isn't yet available to the average consumer. However, videographers wanting to get their hands on the Odyssey can apply for the company's early access program through GoPro's website. 
Industry experts say GoPro was smart for making the move into producing virtual reality content. "There's no doubt that GoPro is an industry leader when it comes to hardware, but by releasing a Jump rig the company is able to strengthen its software side without needing to do much of its own development," Sean O'Kane of the Verge wrote after the May announcement. "The cameras will automatically be synced using the software Google has created for Jump, the footage will be optimized, and thanks to that cohesion users will apparently also get better battery life — something that's still a major sticking point for GoPro users." 
Take a look at the Odyssey in action here: