Why Taraji P. Henson Deserves to Make History by Winning an Emmy for 'Empire'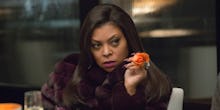 During the 2013 Emmys ceremony, Diahann Carroll, who was the first African-American actress to be nominated for an outstanding lead actress Emmy, proudly walked onstage with Kerry Washington. It seemed like Carroll was passing the torch from one great actress to another in front of millions of viewers. Washington, a fan favorite for that year's breakout series Scandal, was the first African-American woman to be nominated for an Emmy for outstanding lead actress in a drama series. 
She ultimately did not win that evening — that honor went to Claire Danes for Homeland — but it was clear that history was being made just by her nomination. Unfortunately for Washington, Julianna Margulies won the following year for her performance on The Good Wife, and Washington is absent from the Emmy shortlist this year. 
Two other African-American actresses are poised to make history this Sunday at the Emmys, however: Viola Davis for How to Get Away With Murder and Taraji P. Henson for her role as Cookie Lyon on the biggest television hit of the season, Empire.
Davis and Henson are both previous Oscar nominees — even nominated in the same category in 2009, when both lost to Penelope Cruz for Vicky Cristina Barcelona. This year is something of a round two; both are talented actresses headlining their respective series. Yet Henson deserves the gold on Emmys night. 
Davis and Henson are raw, and emotional, but it's the Empire actress who raises her series from a run-of-the-mill soap opera to a cultural phenomenon. The world of Empire is basically a 21st-century Dynasty set in the music industry. Cat fights, murder and adultery, all set to a Timbaland soundtrack, with an absolute sensation at its core in Cookie Lyon.
Empire was the rare television beast that actually gained more viewers as the season aired. As the bar for crazy was raised every episode, Henson's Cookie remained a strong, but calm force in the middle of the storm, which is hard for someone who is usually seen wearing head-to-toe animal print. 
Cookie's first scene in the pilot is of her emerging from prison as if it were a backstage at fashion week, with a leopard print dress and white fur coat, stopping only to say, "Cookie's comin' home." A scene that over the top with only three words should have come off as a caricature. Yet Henson prevailed.
Her portrayal of Cookie is layered and relatable. In one moment, Henson is able to hold back tears about her family falling apart, or the years she missed out on raising her sons. Then, in the very next scene, she's throwing down in a bathroom brawl with Courtney Love. Every line delivery is absurdly fierce — those alone should be enough for Henson to win. 
Cookie is a stealth predator, but her jungle is concrete and her prey is anyone in the way of her rising to the top of the Empire Records music label.
Empire could have been an ensemble show, but it quickly turned into The Cookie Hour. Every scene becomes electric when Henson steps into the room. Her co-star Terrence Howard was the bigger name when the show debuted, but Henson was the breakout. Fox quickly realized this: A Cookie spinoff is reportedly in the works. 
Though Henson's performance is masterful, she's got tough competition. Davis has had some powerful moments in How to Get Away With Murder, while Tatiana Maslany finally got the Emmy nomination love she deserves for Orphan Black. 
Yet it's Henson who keeps her Cookie controlled enough to never give into the wild world around her. These other actresses give stellar performances, but Henson has to work even harder to be the most empathized-with character in the world of Empire — a challenge which terrified her.
"I was scared to death. I struggled with it because I was like, 'Oh, my God. She is so ghetto,'" Henson told the Wrap in July. "But then I was like, 'But she's so real. She speaks the truth." 
That outspokenness is what made Henson's Cookie a cultural phenomenon. She's the best part of the biggest show of the year, no small feat for any actor. She deserves the Emmy for her performance. Making history will just be icing on the Cookie cake.
Empire is nominated for three Emmy awards, including for outstanding lead actress in a drama series for Taraji P. Henson. It is available for streaming on Hulu.