Mike Huckabee Tells Kentucky Crowd He's "Ready to Go to Jail" for Kim Davis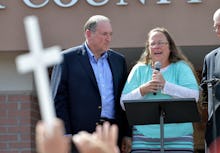 At a raucous protest rally in Grayson, Kentucky, Republican presidential candidate and former Arkansas Gov. Mike Huckabee sent a message to the judge who jailed a county clerk after she refused to issue marriage licenses to same-sex couples: You're going to have to go through me first.
"If you have to put someone in jail, I volunteer to go. Let me go! Lock me up if you think that's how freedom is best served!" Huckabee said of county clerk Kim Davis, whose refusal to issue marriage licenses to same-sex couples Rowan County has ignited religious and judicial debate across the country. "Because, folks, I am willing to spend the next eight years in the White House leading this country. But I want you to know, I'm willing to spend the next eight years in jail. But I'm not willing to spend one day under the tyranny of people who believe they can take our freedom and conscience away!"
Over the strains of Christian rock anthems in front of a crowd so thick that the protest cancelled school in the town, Huckabee proclaimed, "Kim Davis is free!"
"We don't gather here today because we hate anybody," Huckabee assured the crowd, which at times more resembled a religious revival than a political protest. "We gather here today because we love God, and we love this great country. And we do not want to see this country become the smoldering remains of what was once a great country!" 
Moments later, the newly liberated Davis herself appeared onstage, arms raised and hands clasped with Huckabee and her attorney as Survivor's 1982 classic "Eye of the Tiger" blared from nearby speakers. Davis thanked God for her release and the assembled masses for their support. "His people have rallied," Davis told the crowd, nearly overcome with emotion, "and you are a strong people!"
It was the surreal apex of a story that has captivated the nation. Davis, a Democrat elected in 2014, had been held in the Carter County Detention Center since Sept. 3 after she refused to end her office-wide ban on issuing marriage licenses to same-sex couples. A member of the Apostolic Church, Davis has declared that issuing the licenses would be a violation of her First Amendment right to religious expression. 
In defiance of a federal court order, Davis continued to refuse to issue licenses to same-sex couples, filing an emergency application with the Supreme Court in order to stay the lower court's decision while she pursued an appeal. The Supreme Court denied the application, which did little to shake Davis' convictions; amidst increasing media attention and scrutiny, Davis told same-sex couples attempting to obtain marriage licenses that she was acting "under God's authority."
Upon being jailed for contempt of court, Davis become a cause célèbre for social conservatives who have claimed that the legalization of same-sex marriage would result in the encroachment of Christians' religious liberties. Huckabee, a former Southern Baptist pastor, has been among the loudest of those voices — his campaign website's homepage currently demands that President Barack Obama "end this government's criminalization of Christianity," followed by a donation link:
Huckabee isn't the only presidential candidate who sees Davis' stand as a winning issue with primary voters. Texas Sen. Ted Cruz, a fellow presidential candidate, also met with Davis on Tuesday afternoon; other candidates, including Florida Sen. Marco Rubio, Kentucky Sen. Rand Paul, Louisiana Gov. Bobby Jindal and former Pennsylvania Sen. Rick Santorum have all voiced support for Davis. (Other candidates, most notably former Florida Gov. Jeb Bush and former Hewlett-Packard CEO Carly Fiorina, have been more circumspect.)
Huckabee has even vowed to use his authority as president to issue executive orders that explicitly protect the freedom of individuals to discriminate against same-sex couples, should those unions conflict with their sincerely held religious beliefs. 
Those orders would be a nationwide version of "religious freedom restoration acts," pieces of legislation that require state governments to have a compelling interest before they can substantially burden personal religious practices. Such legislation became increasingly popular this year as conflicts between newly married same-sex couples and Christian florists, bakers and photographers fed the narrative that religious freedom in the U.S. was "under attack."
The political pressure appears to have worked. On Tuesday, U.S. District Court Judge David Bunning ordered Davis released from jail on the condition that she "not interfere in any way, directly or indirectly, with the efforts of her deputy clerks to issue marriage licenses to all legally eligible couples."
The future of same-sex marriage licenses in Rowan County, however, remains unclear. Kentucky law requires that the name of county clerks appear on all marriage certificates performed in the commonwealth, a practice that Davis likens to an "endorsement" of the union. 
"Her name and her authority is on a license," Mat Staver, Davis' attorney, said at the rally. "Whether her name is on [the marriage license] or not, it's under her authority... She cannot allow her name to be associated with something that conflicts with God's definition of marriage." 
Kentucky Gov. Steve Beshear, facing calls to order a special session of the state legislature so that the requirement might be removed, has refused to do so, citing taxpayer expense. 
Staver, who did most of the speaking for Davis before she joined Huckabee on stage, vowed to continue fighting on her behalf, with Huckabee at his side. "[Davis] will return to work ... and she will not abandon her post at that position that she's been democratically elected to serve."