'Harry Potter' Illustrated Books: Images and Release Date for Latest Editions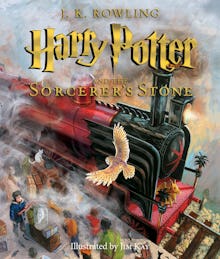 Publishers have released images for the illustrated editions of J.K. Rowling's famed Harry Potter books, breathing new life into the series and giving fans a brand-new look at all their favorite characters. The first illustrated book, a revamp of Harry Potter and the Sorcerer's Stone, is slated to go on sale Oct. 6, the Telegraph reports. 
The books are the first fully illustrated renditions of the Harry Potter series ever created. Among the characters coming to life are Draco Malfoy, Ron Weasley, Hermione Granger and of course, Harry Potter. The first book is expected to contain 110 color illustrations in addition to two image covers, one for the American edition and one for the British edition, BuzzFeed reports. 
Renowned British artist Jim Kay did the artwork, including its book jackets. "The story is everything, and so I want to bring what I can to really show the depth of Rowling's stories to their best," Kay told the Telegraph earlier this year. 
The first book, Harry Potter and the Sorcerer's Stone, hit shelves in the U.K. in June 1997. It was Rowling's first novel and quickly rose to worldwide fame, becoming a best-seller.  
The books have since been translated into 74 languages and sold over 450 million copies worldwide, according to Scholastic, which published the series in the U.S. Fans and book critics alike have celebrated the series for its imagination, intricate plots and character development. 
Scholastic and Bloomsbury, the book's U.K. publisher, said they plan to release one illustrated book a year for the next six years, BuzzFeed reports. 
"Kids who began reading Harry Potter when they were in elementary school finished Harry's story as they finished major life milestones in this decade," Scholastic publisher Arthur Levine said in a statement. "And they took with them not only a deep experience of the pleasure a book can bring, but a validation of hopefulness, that one's actions matter more than one's circumstances, and a message that truly love does conquer all."