Kentucky County Clerk Kim Davis to Be Released From Jail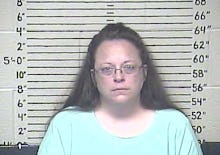 A judge ordered the release of Kentucky county clerk Kim Davis, who was jailed last week after she defied a court order requiring her to issue marriage licenses to same-sex couples in Rowan County. United States District Judge David L. Bunning released Davis on the condition that she "not interfere ... with the efforts of her deputy clerks to issue marriage licenses to all legally eligible couples."
"Defendant Davis shall be released from the custody of the U.S. Marshal forthwith," Bunning said. "If Defendant Davis should interfere in any way with their issuance, that will be considered a violation of this Order and appropriate sanctions will be considered."
The decision to jail Davis came months after a gay couple filmed the county clerk refusing to issue them a marriage license despite the historic Supreme Court ruling in favor of gay marriage. Since then, Davis repeatedly refused to issue any other marriage licenses to same-sex couples in the area. Davis has said her Christian beliefs bar her from marrying same-sex couples.
Davis' supporters gathered outside the Carter County Detention Center over the weekend to demand her release. Some conservatives have rallied around Davis as a symbol of religious liberty and have even compared her to civil rights symbol Rosa Parks.