11 New Television Series We're Excited for This Fall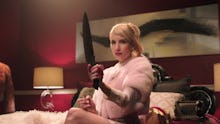 With every new Netflix series, Amazon pilot or summer smash, the idea of the traditional television schedule becomes harder to understand. Accepted models are going out the window, from when episodes air to even how many there are (Fox's Empire aired only 12 in its debut year versus the network standard of 22).
Yet there's still a bit of electricity in the air around September. Beloved favorites return, while new shows compete for national attention. It's a time for change; it's a time to fall in love.
Network TV is coming off an uncommonly strong season, one that brought much-needed diversity to the small screen with spectacular results. In addition to runaway hit Empire, the 2014-2015 season brought the CW's Jane the Virgin, ABC's How to Get Away With Murder and more to our screens — each successful in its own way.
Which will be those breakout shows this year? Which performers and stories will we fall for? Here are 11 new entrants to the TV thunder dome battling for our attention.
Quantico
Network: ABC
Thrillers tend to only enjoy modest success on network TV, largely because the 24s of the world are a dime a dozen. It's not just the story that has to be good — they need a charismatic star too. In casting Quantico, ABC put a lot of chips on Bollywood star Priyanka Chopra. In India, Chopra's a megastar; it remains to be seen if she'll be able to translate that success to the United States.
The series sounds intriguing: One member of a group of seven FBI recruits is supposedly behind a massive terrorist attack, a flash-forward reveal similar to Damages and How to Get Away With Murder. This keeps the show from being just another thriller — there are stakes here. Getting invested in the characters leads to greater payoff when the terrorist is revealed.
Scream Queens
Network: Fox
Creator Ryan Murphy returns to Fox after six seasons of Glee and four seasons (and counting) of American Horror Story. He's blending the two for his new series: a look at students suddenly getting hunted down by a killer. The show — with a cast that includes Emma Roberts, Oliver Hudson, Glee's Lea Michele and Jamie Lee Curtis — even includes a bit of gone-but-not-forgotten ABC Family hit Greek, as the action takes place in a sorority.
Taste-wise, if the trailer is any indication, Scream Queens takes aim at an audience that loves horror and camp and doesn't care about other viewers. It's smart — in this age of what's being described as "peak TV," with options galore, producers can only expect the most devoted audiences to tune in. What that means for viewers: If you like one episode of Scream Queens, you'll like them all. If you don't, there are 10 other shows on this list.
Marvel's Jessica Jones
Network: Netflix
Marvel continues to place more emphasis on diversity literally anywhere but the big screen with Jessica Jones, the comic giant's second female-centric series after ABC's Agent Carter. Like Daredevil, Jessica Jones is a Netflix series, this time following a retired superhero who becomes a detective (Krysten Ritter). 
Considering the success of Daredevil series, Jessica Jones has big shoes to fill. More Marvel series are rapidly approaching, so keeping the hot streak alive will be crucial.
The Muppets
Network: ABC
At this point, does it even really matter what The Muppets is about? This summer has basically been an elongated press tour for this show. Kermit the Frog and Miss Piggy, two inanimate objects, broke up. Kermit rebounded with Denise, also an inanimate object. The New Republic called Miss Piggy — again, a reminder, an inanimate object — "a domestic abuser." Miss Piggy has reportedly moved on with Josh Groban, who is a human and quite animate. It's all been quite exhausting.
It's all a run-up to The Muppets, a mockumentary (think The Office) that will focus on the characters' personal dramas as much as their work. As a contained TV series, these kinds of inter-Muppet dramas might be entertaining, since they'll clearly be marked as fictional. Right now, though, we just want the show to start.
The Grinder
Network: Fox
Rob Lowe's TV persona is positively magnetic. Whether he's inspiring us all as The West Wing's Sam Seaborn or literally blowing our minds on Parks and Recreation, there's something about him that's made for the small screen. So no matter how good The Grinder, his new comedy that follows his TV-lawyer-turned-real-life-lawyer character, is it's bound to be at least entertaining.
If you're wondering why a television series in 2015 would name itself The Grinder, when there's a popular gay dating-and-hookup app called Grindr out there, you're asking the right question. Another great question: Why is the tagline "He can get anyone off"? Either this is the greatest inside joke or Fox needs some gay men consulting their development department as soon as possible.
Supergirl
Network: CBS
There were at least two ways to read the first trailer for Supergirl, CBS' foray into superhero TV. One: The series starring former Glee standout Melissa Benoist looks charming and fun. Two: Why does this show look so similar to Avengers: Age of Me, the Saturday Night Live parody of what Marvel thinks a female-focused movie looks like?
The truth probably lies somewhere in the middle. While early signs point to this series being refreshing and fun, there are a few tropes of romantic comedies present. (Do we need the makeover montage as she picks out a superhero outfit?) A lighter touch isn't a bad thing, though: Dark super-series can be quite repetitive.
Red Oaks
Network: Amazon
Amazon hasn't had much luck producing a follow-up hit to Transparent (though Mozart in the Jungle has fans). They'll take another shot with Red Oaks, an '80s-set comedy from the director of Pineapple Express. The pilot was apparently quite retro-kitsch-heavy — it features a college student who works as a tennis instructor (Craig Roberts) and includes a bunch of allusions to '80s movies.
Despite the '80s setting, something about this feels a bit 2007, right around when Pineapple Express and the movies of its ilk (see: Superbad) were popular. Whether it finds an audience will depend on whether that particular kind of broish sex comedy has been missed in the years since.
Crazy Ex-Girlfriend
Network: The CW
Bearing in mind the title is a giant red flag, and the premise — a woman (Rachel Bloom) who moves to West Covina, California, to follow a guy she had a crush on once — is problematic, there's a lot about Crazy Ex-Girlfriend to love. It's a musical series, joining a line that includes Glee, Smash, Nashville and Empire. Bloom is a YouTube star with a winning, if forceful, personality — a musical comedy series feels like the right venue.
About that title, though: Why use "crazy," such a dismissive term, in the title? "I wanted to explore the 'crazy ex-girlfriend' and what people mean when they talk about that," co-creator Aline Brosh McKenna said at the Television Critics Association summer tour. McKenna wrote The Devil Wears Prada, so we have faith in her and what looks like a winning show, but that title may have trouble attracting positive attention.
Master of None
Network: Netflix
One can't say Parks and Recreation star Aziz Ansari is thinking too small with his new Netflix show. Based somewhat on his own life, Master of None will follow a young-ish actor in New York through episodes about "big ideas." What does that mean, exactly? Stories will be about something much more significant, like immigration — the anti-Seinfeld, if you will.
Master of None could easily overextend itself, but so far, signs are good. Nabbing no less than Homeland star Claire Danes to guest on the show indicates the pedigree will be high.
Blood and Oil
Network: ABC
Think Revenge, but in North Dakota. This soapy series is all about a battle over oil. If you're thinking "that's just Dallas," you're not wrong. Little separates the series besides their locations. A soap fits nicely into ABC's brand, though, since Revenge just aired its last season. Shonda Rhimes' soap-tinged dramas are a hit Thursday night;  why shouldn't this work on Sundays?
At the very least, Blood and Oil features a likable cast, with Gossip Girl's Chace Crawford in the lead and Revenge cast-off Amber Valletta filling a similar socialite role.
Heroes Reborn
Network: NBC
Can Heroes fans learn to love again? That's the big question facing NBC, which is gambling on a limited series revival of their late 2000s show about superheroes. In some ways, Heroes was ahead of the curve on the superhero television trend — though the show ultimately flamed out with both viewers and critics.
Though it's billed as a onetime revival, NBC is likely hoping the series will strike a chord with the zeitgeist again to give them a valuable drama property. Reborn will follow a mixture of old and new heroes, so if nothing else, fans missing the old show can get a bit of a nostalgia jolt.
Sept. 10, 2015, 10:15 a.m.: This story has been updated.