11 Returning Television Series to Tune In to This Fall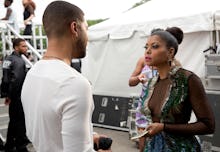 While new TV series bring audiences a very specific kind of pleasure — the thrill of the unknown — there's something quite special about the return of old favorites. The new kids can be cool or mean or just bland. With old friends, you know more or less what you're getting; it's comfortable.
That's not to say these 11 favorites are set on keeping things safe and predictable. Two shows are drastically reinventing themselves for the new season. One is switching from network TV to a streaming service. Four are the kind of breakneck-paced series that couldn't possibly remain static if they tried. No, returning shows can be just as exciting as the newbies, and they come with the safety blanket of an established audience.
What are we looking forward to? When do your favorites hit the airwaves again? We've got all that and more in this list — plus some Cookies for you to snack on as you read.
All times listed are Eastern Time.
Empire
Network: Fox
You want Cookie's nookie? You're competing with 15 million other admirers for her attention. 
There are plenty of reasons to get stoked for season two of network television's latest, greatest smash hit. There's 18 full episodes of great music, spectacular guest stars and more on the way. We know why you're tuning in, though. Three words: Taraji. P. Henson.
What will Cookie Lyon say and do this season? How will she manipulate her ex-husband (Terrence Howard) and take control of their music business? It's going to be one hell of a show — one stuffed to the brim with viewers as creator Lee Daniels conducts the orchestra with mad passion.
Fargo
Network: FX
Whether or not Fargo's first season piqued your interest means little to whether or not you'll love the second. Like True Detective, FX's series, based on the Coen Brothers movie of the same name, is an anthology. Each season will tell a new story with new characters.
However, unlike True Detective's second season, Fargo's looks incredibly promising. The cast is top-notch (Patrick Wilson, Jean Smart, Kirsten Dunst) and the tone seems just light enough to work despite a grim setting. That's what's great about anthology series: It's never too late to fall in love.
The Flash
Network: The CW
Reasons to watch the CW's The Flash, ranked:
3. Quality. It's easily the best superhero show on TV (including Netflix's grim Daredevil), expertly balancing action with heart. This isn't a guilty pleasure; it's truly enjoyable without worry. Some of the story developments in the first season stand tall next to those from the most prestigious cable dramas.
2. Charm. It may be the cutest show on television, with a great cast and a solid story that never takes itself too seriously. The Flash isn't here to tire you out. It knows you had a hard day. Grab a glass of wine and have some fun with Barry Allen and his pals. Speaking of which:
1. The Flash himself, Grant Gustin. He is adorable. Even if The Flash were trash, Gustin would make it worth watching. We submit this GIF as our evidence.
Case closed. The watch parties start Oct. 6.
How to Get Away With Murder
Network: ABC
Shonda Rhimes' production company produced another hit with How to Get Away With Murder last season, despite the show itself being kind of a mess. Give all credit to star Viola Davis, who turned every dirt clod of a subplot into gold with flawless line readings, depth of characterization and general flair.
Davis' Annalise Keating, an amoral defense attorney and law professor, spent 15 episodes setting bad examples for her students, winning against all odds and accusing her husband of cheating by showing him pictures of his anatomy on other women's phones. She is one of the most fascinating characters on TV right now. No matter how bad the story gets, it's worth staying with Annalise (and Davis) until the end.
American Horror Story: Hotel
Network: FX
Like every season of American Horror Story before it, Hotel looks amazing. Like every season before it, it will probably fail to tie up its plot by the end, leaving audiences confused and annoyed. For any sane person, this would be good reason to skip this season.
You know what the other seasons didn't have, though? Lady Gaga. Along with series regulars Angela Bassett, Kathy Bates, Sarah Paulson and more, Stefani "Gaga" Germanotta will be haunting this Hotel's walls this season. So go ahead. Skip this year. See how long you last before you wind up bingeing every episode in a wild-eyed craze some Saturday afternoon. The power of Gaga compels you.
Jane the Virgin
Network: The CW
To sum up what happened in the first season of Jane the Virgin would require three hours, lots of water and immense patience. So just take our word for it: This is the twistiest show on TV. It borrows from its telenovela roots in that way, but makes one crucial change: It never sacrifices character in favor of shocking its audience.
The story of a woman who gets pregnant despite being a virgin is exactly as fun as it sounds, but it wouldn't work without making that woman a grounded, real character. All the credit in the world to Jane herself, Gina Rodriguez. Her performance is transcendent (and an egregious snub at this year's Emmys). If you haven't watched yet, now is the time to get on board. Just find some SparkNotes to get caught up first.
The Good Wife
Network: CBS
The oldest show on this list — entering its seventh season and likely wrapping up soon — The Good Wife remains a treasure. What started as a Clinton/Spitzer analogue has grown far beyond that: Alicia Florrick (Julianna Margulies) is a skilled lawyer who has taken her late-in-life chance to start over and run with it. The fifth season was as good as any other show on TV.
Part of what makes the series so great is its supporting characters. From fabulous-but-fatal Diane Lockhart (the divine Christine Baranski) to unsung players like affable partner Cary Agos (Matt Czuchry), The Good Wife couldn't work without them. The show may be named after the Wife, but it's about all of them.
The Mindy Project
Network: Hulu
Mindy Kaling's show once was lost, but now it's found — and streaming. The Fox favorite that never quite found a big-enough audience has been given a second chance on Hulu with a 26-episode order. The Mindy Project follows Mindy Lahiri (Kaling), a doctor with a love of romantic comedies, through the trials and tribulations of life and love. It's a cute show, with Kaling's unique voice resonating.
Kaling clearly has a giant fanbase, and it's interesting they never tuned in to offer a sizable audience for the show. Hulu may be fans' chance to find her. Luckily, with such a large episode order, they'll have the time.
Fresh Off the Boat
Network: ABC
If it's good enough to recommend to Hillary Clinton, it's certainly good enough for you. Fresh Off the Boat is, as we wrote for the former Secretary of State, "based on chef Eddie Huang and his own family, and their experience as restaurant owners in mid-'90s Orlando, Florida." The show is not without its detractors, including Huang himself, but it's well worth checking out.
Of particular note is Constance Wu's performance as mother Jessica; her every line delivery is gold. She infuses her role, which could easily deteriorate into a stereotype, with so much personality and humanity she's impossible to deny. Even if the rest of the show has you sitting on the fence, let Wu guide you down, cracking you up along the way.
Brooklyn Nine-Nine
Network: Fox
Do you miss a quick, funny workplace comedy on TV, like The Office or 30 Rock? Good news: Brooklyn Nine-Nine is entering its third season, and it's exactly what you need. It may not be as sharp as Tina Fey's dearly departed series, but it makes up for precision with sheer volume. Each episode of this unconventional cop comedy is packed to the brim with jokes — not punchlines, but actual jokes based on knowing and loving these characters.
It's lucky, then, that the characters themselves are so damn lovable. While Andy Samberg is doing some of his career-best work as Jake Pavelka, each member of the ensemble is stellar. Special credit must go to Emmy nominee Andre Braugher as Captain Raymond Holt, a queer man of color who, despite his character's seriousness, is one of the funniest men on TV.
MasterChef Junior
Network: Fox
TV's most precious reality competition is back. After airing two seasons basically in a row — the second debuted in November, the third in January — chef Gordon Ramsay's best show took most of 2015 off. We've missed it desperately. In its first three runs, MasterChef Junior proved to be a standout in its genre.
The series is so good (and so much better than regular MasterChef) largely because it's so aspirational. These cute kids are cooking amazing food. Not only does it make you want to do more, it's also incredibly entertaining. Amid TV giants this fall, one of the greatest treasures is just waiting to be found in a small package. Log off Seamless and whip something up.