Image Emerges of Rare Pink Dolphin "Pinky," Last Seen in 2007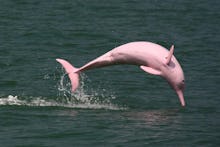 Pinky never left us. She's been here all along, wading about the Calcasieu River's ship channel and showing off her unique majestic color to onlookers throughout summer. 
Pinky, a rare pink dolphin originally thought to be albino, has been frequently spotted along the coast of Louisiana during the season, appearing more and more in recent weeks, according to local news station WGNO. 
"We still see her swimming almost every day in the summertime. We've seen her a lot in the last few weeks. She looks happy and healthy," Erik Rue, a captain with Calcasieu Charter Service, tells WGNO. The station reports Pinky has been often found swimming alongside her mother, but recently began appearing either alone or with the rest of her pod. 
A pink dolphin like Pinky is very rare. This summer's sightings mark the first time such a sight has been recorded since Rue filmed the mammal in 2007 when he was on his boat in Louisiana. However, the pink dolphin (believed to have a rare genetic condition) is all grown up and may even be pregnant. Rue tells the network he recently saw Pinky mating with another dolphin, suggesting she could perhaps pass on her uniquely colorful trait.
Since WGNO began reporting the sightings, the Internet has started freaking out about the fact that a pink dolphin is a thing that exists in this world:
Check out the footage of Pinky that Rue submitted to WGNO below: