Kylie Jenner Shoots Racy Photo Spread for 'Galore' Magazine With Terry Richardson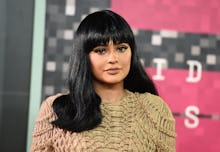 Kylie Jenner may have won over reality TV viewers as the adorable youngest member of the Jenner-Kardashian clan, but she's now turning heads for a different reason. A new photo spread for Galore magazine that appeared online Tuesday featured Jenner, who recently turned 18, in several revealing outfits from Michael Costello, Moschino, Balmain and other designers. Infamous and controversial photographer Terry Richardson was the man behind the racy images. 
On turning 18 in August, Jenner said she wished she could stay young forever. "The reality is that I don't even want to be 18. I wish I could be 17 for the rest of my life. I don't want to get any older," Jenner told the magazine. "I just want to be young and enjoy it, but this lifestyle absolutely made me grow up faster."
The photo spread included several images referencing Jenner's age, including a photo her holding a birthday cake with the number "18" on it. The star of E!'s Keeping Up With the Kardashians said she found the apparent obsession with her age confusing. "It just makes no sense that, even a month ago, people were complaining that I was too young to be doing certain things, and now people are just okay with it because I'm grown," Jenner told Galore.
Aside from her continued appearances on Keeping Up With the Kardashians, Jenner is planning to launch a website that will feature the reality star giving makeup tutorials, US Weekly reports. Jenner recently admitted to having her lips plumped after rumors swirled that she had had plastic surgery. 
On her work ethic, Jenner said she inherited her business savvy from her family, including her older sister Kim Kardashian and her mother Kris Jenner. "My mom has raised us all like that. ... I need to be doing some type of work all the time," she told Galore. "If I'm not working for two weeks, I freak out. But I also love having down time with friends."