Slim Jesus' New Video "Drill Time" Is Being Hilariously Destroyed by the Internet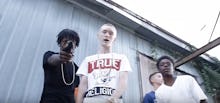 It seems as though something each day causes the Internet to collectively shudder in outrage and disgust. This week, that shudder happened to come from a new music video titled "Drill Time" by a possibly up-and-coming rapper named Slim Jesus. 
The 18-year-old's explosive, first music video began making waves throughout the Internet as it was picked up by Complex and other outlets after gaining traction on Twitter. "It got like 4,000 in one day and that was crazy to me already, and now it has like hundreds of hundreds of thousands," the young rapper told Complex. 
"Drill Time" is Slim Jesus' unabashed take on drill music, a growing rap-genre that uses trap beats and dark, violent lyrics, popularized by Chicago rappers like Chief Keef and Lil Durk.
Warning: The video features graphic content, including underaged teenagers holding fake guns, wearing gold chains and throwing money their parents gave to them as a weekly allowance.
However, the video may not be getting the positive reviews the Slim Shady lookalike might be hoping for. The video is being torn apart across social media, with numerous hip-hop fans and the general public alike turning the amateur-styled music video and rap lyrics into a joke. 
Many took to social media to provide other examples of famous lookalikes Slim Jesus resembles:
Others are satirically hailing Slim Jesus as the world's greatest up-and-coming rapper, claiming he is a legend in the hip-hop music industry compared to other leading rappers:
Still, most of the Internet is left wondering where this young boy came from, why he's holding weapons while rapping lyrics he wrote before dinner time and wearing gold chains and rings his friends borrowed from their older brothers:
However, it seems as though Slim Jesus is taking all the backlash in stride (or, at the very least, he doesn't partake in Twitter feuds):
Listen to the rest of Slim Jesus' public recordings on his Soundcloud page.