Tom Hardy Is Not Embarrassed by His Old MySpace Photos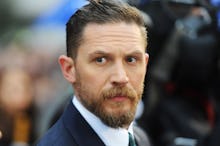 In an age when almost anything can find a permanent home on the Internet, the idea that an unflattering or downright humiliating photo could suddenly resurface online is, for many people, a source of anxiety, especially for those already in the public eye. Not so for English actor Tom Hardy.
The star of Mad Max: Fury Road said he isn't embarrassed by old MySpace photos that have popped up online and depict the hunky actor doing things most leading men would likely want buried forever, including one of him in what Hardy calls his "tighty-whitey budgie smugglers." Another shows the actor in what appears to be a security guard's outfit and sporting a particularly toothy smile. 
"I've got no shame about my MySpace photos, especially the one of me in my underpants, which is a glorious photo of a man in his natural habitat," Hardy told Sky News, according to the Independent. "In America, they say, 'You should be ashamed of this,' but I'm actually not remotely ashamed."
Hardy added that he "might not be an Adonis," but that he likes to think of himself "as an Adonis in that photo."
Since 2012, the photos have popped up every once in a while, including during his recent press tour for Mad Max: Fury Road, Us Weekly reports. 
While the account that originally hosted the photos has long been deleted, the images survived on blogs and social media websites, proving that just because something gets scrubbed hardly means it's gone forever. 
Hardy's past social media blemishes weren't limited to photos. His sometimes incoherent MySpace "About Me" section included references to the actor's "tenacious" and "passionate" personality, in addition to various platitudes about life and success, BuzzFeed reports. 
"I laugh at bullies," the actor wrote. "I am reactionary, but I have learned to hold my tongue and my trigger finger. Man-made mistakes take lives from those that deserve to recover in time. There is always another way forward, better even if it is around the side or back; I try to find it. The mind is like a parachute; it will only work when it is opened."