If Yoga Clothing Were Made for All People, This Is What It Would Take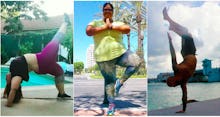 Kayla Larkins, 20, began practicing yoga on a regular basis this year. So far, it's been an empowering experience, where she's constantly learning to push herself and learn more about what her body can achieve, she told Mic.
What hasn't been so pleasant, she said, is shopping for yoga clothes that fit her size-14 frame; most yoga clothes stop at a size 12, she said. It's why, when Larkins finds yoga pants that fit her, she immediately tells all her friends.
There's a particular stereotype surrounding yoga: namely, that it's practiced by very slender, white women. That reigning assumption isn't helped by ads for the likes of Lululemon, which feature slender, mostly white women doing the "sport" that evolved from humble origins in South Asia into a cultural tour de force in the United States.
And that reigning assumption about yoga makes it hard to find clothes. 
"It's really frustrating to walk by an entire section dedicated to beautifully designed feminine yoga [and] athletic apparel," said Jessica Rihal, a yogi who also happens to be plus size. "The options are so abundant that it's a bit overwhelming, only to find that the largest size in the entire section is a 10 or 12."
And while there are increasingly more options out there, not enough attention is paid. Just this month, Lululemon unveiled a new line of leggings, with new innovations in mind — yet they still only go up to a size 12.
Mic spoke to a handful of diverse yogis, ranging in body type and genders. Their concerns for yoga clothes, it turns out, are based around a simple premise: clothes that allow an individual to practice yoga in comfort and ease, with the acknowledgment that all bodies are different.
The right pair of yoga pants makes all the difference: For one, yes, you do need specific "yoga clothes." At least many people, including those who are plus size, prefer them; the right kind of shirts, leggings and shorts can make people feel more comfortable doing certain poses in class, yogis told Mic.
Brinkley Cox, a practicing yogi, told Mic that larger yogis can find themselves stuck between a rock and a hard place if they try to shop for yoga clothes at a major retailer. The main problem with typical yoga pants is the waistband is too small or so short that it cuts into the lower abdomen, Cox said. 
Such an issue might not be a problem with a stereotypical yogi who has a flat stomach, she said. But so few people actually do.
"Having spent countless yoga classes pulling my pants up and my shirt down after each downward dog, inversion or sun salutation, it starts to make the yogi feel demoralized about their practice because they aren't fully connecting to the breath," Cox said.
Yvette Goodridge, another practicing yogi, agreed the wrong waistband can spell disaster. 
"In my pants, I like them to be high waisted and made of supportive material. You definitely don't want to be distracted from your practice because your waistband is rolling down," she told Mic in an email.
Sturdy fabric is key: Another top concern female yogis cited was material; the right ones don't lead to chaffing.
"I look for clothes that are constructed well and made of high-quality fabrics that won't fade or break down with heavy use," Jessica Rihal said. "My thighs rub together, so fabric that pills, fades quickly and doesn't wick sweat away from the body is just not a good investment for me."
For men and women, it's important to always look for moisture-wicking materials, Kris Pace, a yoga instructor in Florida, told Mic. Pace, who used to do Crossfit and mixed-martial arts, said he looks for clothing cut in such a way that he can squat and move his legs freely. 
Unfortunately, the selection for men's yoga clothing is severely limited.
"There's very few companies out there that are catering to men, specifically," he said. "Most of the focus has been on the female and women's clothing line."
Why it matters: Thankfully, there are some brands doing it right, including a few that came up repeatedly among the yogis interviewed by Mic. Names like Fractal 9, an indie company that makes custom yoga clothes in sizes from extra small to 5X. Other companies like Lotus Leggings (which goes up to a 4XL), Rainbeau (up to a 3X) and Just Curves (up to a 4X) offer sizes that go beyond those typically seen in yoga collections.
None of those names, however, include the biggies like Lululemon or even Nike. When yoga clothing isn't available in a particular size, it sends the message that yoga is meant to only be practiced by a particular type of individual: slender and female.
"The message this conveys to me is that I should be hiding my body, even when it's not comfortable to do so," Rihal said. 
That, we know, just isn't true. Just one look at hashtags like #everybodyisayogabody that have sprung up on Instagram makes that clear. Those are the sort of images, the yogis said, that brands would do well to showcase.
"Every yoga cover model is a size 0 and effortlessly flows through a vinyasa class without breaking a sweat. Yoga shouldn't be about that," Cox said. "It should be about sweating your butt off in Bikram, falling over trying to invert in Ashtanga and finding solace in the movement of your restorative, not worrying if the 30 other yogis in the class can see your Captain America underpants."