Apple Live Stream 2015: How to Watch iPhone 6S and Apple TV Keynote Reveal Live Online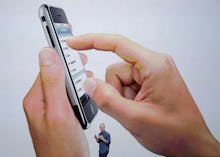 Anyone up to speed with the latest tech news knows that Apple is expected to make some big announcements to its product lineup during its keynote event Wednesday, and the company is set to live stream the whole thing online. The Apple event, housed at the Bill Graham Civic Auditorium in San Francisco, is scheduled to kick off at 10 a.m. PDT.
The keynote is expected to draw tech writers and consumers from around the world. Among the biggest anticipated reveals are the Apple iPhone 6S and 6S Plus, the latest in the company's iPhone series; an updated Apple TV streaming box; and a new version of its popular iPad tablet. 
"Apple's Sept. 9th event is set to be one of the company's largest events in history, as is reflected by the expansive size of its San Francisco venue," Mark Gurman of 9To5Mac reports. "The Bill Graham auditorium ... is a massive 7,000-seat building, and sources suggest that it was deliberately chosen to reflect the event's scope. They have said that next week's event will include an 'unprecedented' blitz of product introductions, even potentially outmatching last year's iPhone 6, Apple Watch and Apple Pay keynote."
Can't attend? Don't fret. Apple has set up an online live stream for Apple fans to tune in remotely from their smartphone, tablet or computer through Safari. The company has traditionally only allowed live streams of its big events to stream on Mac OS, Apple TV and through its iOS operating systems, however this year the company is also allowing Windows users to view the live stream for the first time using the Windows 10 Edge browser, Pocket-Lint reports. 
Speakers will include Apple CEO Tim Cook and other senior Apple team members, ZDNet reports.