Stephen Colbert's First 'Late Show' Was a Stylish Bore, but Give Him Time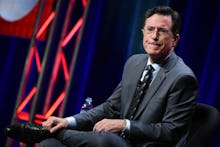 Were we Stephen Colbert's friends and he asked us how his first night as host of The Late Show With Stephen Colbert went, we'd do our best to accentuate the positives.
"The set is just gorgeous!"
"Your suit was so cute."
"You were so high-energy the entire time."
None of those platitudes would be wrong. The set, reportedly put together by Today Show set designers Jack Morton PDG, is dazzling in how well it mixes the traditions of late night with colorful pizazz. Colbert's suit, a light blue, was just different enough to set him apart from Jimmy Fallon and Kimmel. If nothing else, the way the host bounced around in it indicated he was positively pumped to be there.
Unfortunately, he never really gave the audience reason to be as excited as he was.
There were fine moments, and we have full faith and confidence Colbert will fine-tune the machine after first-night jitters have subsided. But as an episode of late night television, even a first episode, Tuesday night's The Late Show With Stephen Colbert was a failure. 
That failure doesn't speak to a show's lack of voice, however. It speaks to a crew who's clearly overthought this — and to a man living in too many shadows.
Nearly all the stylistic elements of the show worked in some fashion. There's something adorable about Colbert doing his own intro — the kind of nerdy, do-it-yourself vibe that he cultivated in his summer of homegrown viral stunts. Along with the set and costuming, everything just had a certain sparkle. Bandleader Jon Batiste was high-energy, but strangely mostly mute.
Breaking the show up into parts allows for Colbert to show off different strengths: While he certainly needs to get better at the traditional standing monologue (his jokes were leaden and dull), he still excels in Colbert Report-esque political material behind the desk. His interviews were fine, if monotonous — Jeb Bush was a bad choice for the first night, since all he really did was deliver a stump speech. George Clooney fared slightly better, though without a project to promote, the conversation meandered.
The show-closing performance of "Everyday People," featuring R&B legend Mavis Staples backed by a cadre of stars (Ben Folds! Brittany Howard! Susan Tedeschi!), was high-energy for certain. It was also, like much of the show, pretty confusing.
What is The Late Show With Stephen Colbert? What audience is it trying to serve that will love Staples and Folds, Howard and Tedeschi? Will those same viewers appreciate a surreal bit of product placement for Sabra hummus? Will they also appreciate a running bit with month-old Donald Trump clips? Right now, it seems like The Late Show and Colbert are trying to serve too many masters at once.
Colbert's first episode was always going to be overthought. Give a man nine months to prepare and he's going to get in his own head a bit. The jokes will get sharper, the surrealism will become more comfortable for the audience and the show will find its voice. In order to do that, though, it has to stop trying to fill so many holes in late night — specifically, those of both former Late Show host David Letterman and Colbert's old boss Jon Stewart.
Stewart was a bit of a phantom in the room last night, appearing in both the opening pre-taped bit as an umpire and as a photo in Colbert's locker at the end. He could even be felt in the Trump jokes. Sure, Colbert made jokes about politicians on The Colbert Report — it was his bread and butter — but the delivery this time around was remarkably Stewartian.
Letterman was more visible as Colbert paid direct tribute, but the host's monologue felt like a diet version of the late night legend's own form. Letterman was vicious, both with guests and in his monologue. Colbert is generally a sweet guy out of his Colbert Report persona, which means he can't quite hit the traditional stand-up punchlines as hard.
Colbert's high energy indicated he was positively pumped to be there. Unfortunately, he never really gave the audience reason to be as excited as he was.
None of this is Colbert's fault. No one host can be three things. Stephen Colbert has to be the best Stephen Colbert he can be. He's got to warm the audience up to his particular brand of humor and find the people that will love him. 
Will he be the most popular host in late night? Likely not. Jimmy Fallon is probably always going to be the popular choice, with his cute viral videos and celebrity games. There's room for more than just popular in late night, though. There's a place for true, unique quality that Colbert is qualified to fill. He just needs time to figure that out.