Boston Mayor Marty Walsh Is Ready to Open His City to European Refugees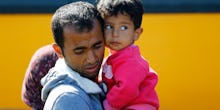 Boston's Democratic Mayor Martin J. Walsh announced that he would be willing to accept some of the Syrian and other refugees now flooding into Europe, the Boston Herald reported Wednesday.
"We would be willing to take migrants if they have them," Walsh told the Herald. "No one has contacted us about the migrants. We are waiting to see what happens and what the situation is."
Walsh now joins a growing number of U.S. officials in both parties, including Republican presidential candidates Donald Trump and Marco Rubio, who have called for action to resettle refugees in the United States.  
"I hate the concept of it," Trump told Fox News. "But on a humanitarian basis, with what's happening, you have to." 
Jeb Bush, meanwhile, has previously expressed support for a more open refugee policy. On the other side of the aisle, 14 Senate Democrats also called on President Barack Obama to accept more refugees back in May, a demand Democratic presidential candidate Martin O'Malley echoed more recently.
World attention galvanized around the crisis in Syria last week when images of Aylan Kurdi, a drowned 3-year-old Syrian child who washed up on a Turkish beach, went viral. As attention to the photo grew, Britain announced it would accept and resettle 20,000 refugees by 2020, while Germany said it expects to take 800,000 and devote $6.6 billion to the crisis by the end of 2015. The first figure represents roughly 1% of the overall German population. The country also said it will potentially accept 500,000 refugees each year for several years.
A comparable effort by the U.S. would welcome more than 3 million people.
Germany and Sweden, another country with generous refugee resettlement laws, have historically been favored destinations among those escaping the crisis in Syria.  
Currently, the U.S. maintains a cumbersome process that typically allows only 1,500 Syrians into the country per year. While the figure was increased to up to 8,000 for next year, human rights activists have criticized the quotas as insufficient. The International Rescue Committee, an aid group, has called for the U.S. to accept 65,000 Syrians by the end of 2016. Meanwhile, an official White House petition demanding similar action has received more than 55,000 signatures since it was launched at the end of August. 
"It is well past time for the United States and other Western countries to commit to a dramatic boost in the resettlement of Syrian refugees," IRC chief executive David Miliband wrote in the Washington Post in March.
The Obama administration said this week that it was assessing how best to respond to the criss.