Inspiring Beauty Vlogger Jordan Bone Just Revealed She's Partially Paralyzed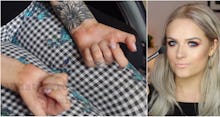 Jordan Bone has dozens of makeup tutorials on her YouTube channel, each with thousands of views and dozens of comments. Like a true beauty blogger, her eyeliner is always on point, her contouring is perfectly blended and she's not afraid of experimenting with color. 
One detail from her videos, though, has stood out to users: Bone's hands are always closed, her fingers curling into her palm. In an effort to silence critics and answer curious users, Bone released a moving video two weeks ago in which she revealed she is a tetraplegic, partially paralyzed from the torso down.
"Most of the time when I upload a video, I have questions about my hands. Truth is, I can't move them, open them or close them. And it's all because 10 years ago I became a tetraplegic after a car accident," she says in the opening of the video. "So to be able to do my makeup good enough to show you guys is a massive achievement for me."
The video, entitled "My Beautiful Struggle," has garnered nearly 3 million views on YouTube since she published it — and has proved yet again that beauty tutorials are increasingly becoming a means to connect over matters deeper than mascara and lipstick.
The power of makeup shape identity: "Being the girl in the wheelchair wasn't my plan," Bone says in the five-and-a-half-minute video, "so I didn't want people to see just the chair." 
Makeup-free and staring into the camera, she narrates how she used to struggle to apply her makeup. She didn't know how to use her hands and would get frustrated and depressed over her weakened abilities. 
"I'd lost a lot and I didn't want to lose my identity too," she says. But makeup, specifically regaining the strength to wield it, has been an empowering process. 
"I persevered and I'm happy with how my useless hands helped me enhance my useless face each day," Bone says. 
Her hope, she says, is that her viewers can take away some inspiration from her struggle. "You guys inspire me every day, so I hope this is my little way of saying 'thank you,'" she says. 
Connecting over more than just makeup: YouTube users have responded with enthusiasm in the comments to Bone's message, many calling her an inspiration to open up about their own struggles. 
Now they have a hashtag to do so with: Bone created #MyBeautifulStruggle so that others could share their own private challenges and triumphs. To date, she's received hundreds of messages from people, she told Today.
"Hearing from fans made it all worth it," Bone said in the interview. "They may think I inspired them, but they really inspired me by telling me that it's OK to be brave."
Bone's video is the latest in a string of makeup tutorials connecting with viewers on a personal level. In July, beauty blogger Em Ford shared a video, "You Look Disgusting," where she recounts the criticism she's gotten on social media when she reveals her acne-prone skin and the praise she receives when she covers it with makeup. Meanwhile, vlogger Nikki de Jager of NikkieTutorials used a video to validate girls who love makeup and want to experiment without judgment or guilt.
Bone's video is a reminder that makeup can be empowering — and that there's always a story and a person underneath the layers of foundation and blush.
h/t Tech Insider