Poet Porsha Olayiwola Heartbreakingly Reminds Everyone Black Women's Lives Matter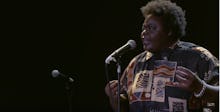 Sandra Bland. Rekia Boyd. Kayla Moore.
Their names belong on the same list as those of Michael Brown, Eric Garner and Tamir Rice — a register of black victims of lethal police brutality. Yet their names have hardly been as widely proliferated, or inspired as much outrage, as those of their male counterparts. It's a disparity poet Porsha Olayiwola scrutinized in a recent Button Poetry performance.
"Last night, no one showed up to march for Rekia Boyd," Olayiwola noted after the police officer who shot Boyd — 22 years old and unarmed — was found not guilty.
"I guess all the protestors got tied up," Olayiwola said. "I guess all the black folks were busy making signs saying 'Stop killing our black boys.'"
The problem, she notes, is hardly isolated to Boyd's case:
"We stay unheard, blotted out, buried, dead," she said. "Black girls receive tombstones too soon and never any flowers to dress the grave. So we fight alone."
It's a sentiment other activists have previously broadcast, and one that prompted the African American Policy Forum to launch the social media campaign #SayHerName.
"Men and boys are seen as the primary target of racial injustice," AAPF associate director Rachel Gilmer told TakePart in May. "This has led to the idea that women and girls of color are not doing as bad, or that we're not at risk at all."
But studies show otherwise: Black women are killed and sexually assaulted by the police, and incarcerated at almost three times the rate of their white female counterparts. Yet news coverage of these cases are focused largely on the relationship between law enforcement and black men.
"They will tell you the woes of a black man who got beat by the police in the street, beat by the man at work, beat by the system at the institution, but never of the black woman he took his frustration out on, never of the black woman he stretched into a casket," Olayiwola says in the video. "I guess queer, black woman ain't black enough."
This erasure is why efforts like #SayHerName are necessary. As Aishah Shahidah Simmons, producer and director of No! The Rape Documentary, told Mic's Darnell Moore in May, it's crucial to "disrupt this narrative that violence against black cis and trans women are not also worthy of mass mobilization, protests and demands for accountability." 
"If a black boy gets shot by the cops, isn't that a tragedy? Ain't it the blues? Isn't it a misfortune?" Olayiwola concludes. "But if a black girl gets killed by police and the killer goes free, does anyone notice? Do you still call it a lynching? Is her rally just a rehearsal? Ain't that why no one ever shows up?"
h/t For Harriet