You Must Watch This Couple's Epic "Drunk History" Reenactment of How They Met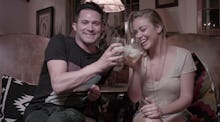 When it comes to wedding rehearsal dinners, one LA couple has officially raised the bar.
At their pre-nuptials dinner, comedian-magician Justin Willman and his photographer bride Jillian Sipkins treated their guests to an epic video that told the story of how they met. The twist? The video was shot in the style of Drunk History, the boozy historical reenactment series on Comedy Central.
"We didn't want to waste time at the wedding reception having to answer the question 'how did you two meet?,'" Willman wrote on his Facebook page Monday, the day after their wedding. "So with the help of a few friends and a lot of booze we made this video to show at the rehearsal dinner."
For the uninitiated, Drunk History is exactly what it sounds like: Comedians getting drunk and telling historical stories, all while professional actors reenact the shenanigans and mouth the narrators' dialogue.
"Drunk History is one of our favorite shows on TV and we figured it'd be a fitting format," Willman told BuzzFeed. "We polished off a bottle of Jameson together...I probably handled 70% of it. Then an unknown quantity of wine and vodka sodas as the evening progressed."
If you want a TL;DR of the (nearly 11-minute-long) Willman-Sipkins edition, their romance started when Jillian was working at one of Justin's shows.
The two didn't connect that night, though. In fact, they didn't even formally meet until the following year, when they ran into each other by chance at a Nerdist event. A year later, the two finally went on their first date thanks to a masterfully timed Instagram comment on Sipkins' feed, proving that our modern-day flirting methods can actually pay off.
From there, Jillian replied to the comment and snagged an invite to Justin's next show. She then texted him immediately afterward to ask him out. 
And the rest was (drunk) history.
Watch the full reenactment of this magical first date in the full video below:
h/t BuzzFeed