Here's How Many of TV's Highest Paid Actresses Are Women of Color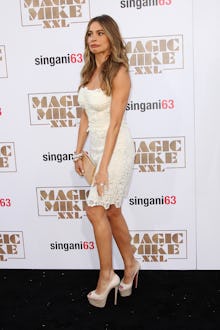 Three of America's 15 highest-paid television actresses this past year were women of color, according to a Forbes analysis published on Wednesday.
Sofía Vergara of Modern Family, Mindy Kaling of The Mindy Project and Kerry Washington of Scandal provided the lone splashes of color in the sea of whiteness that constituted this year's rankings. 
Vergara tied for the top spot, while Kaling and Washington ranked eighth and ninth, respectively. The period accounted for was June 1, 2014, to June 1, 2015, and included earnings from both TV shows and endorsements. 
Here's who made the list (details on exactly how much they made can be found at Forbes):
1. Sofía Vergara (tie), Modern Family
1. Kaley Cuoco-Sweeting (tie), The Big Bang Theory
3. Julie Bowen, Modern Family
4. Ellen Pompeo, Grey's Anatomy
5. Mariska Hargitay, Law and Order: Special Victims Unit
6. Julianna Margulies (tie), The Good Wife
6. Amy Poehler (tie), Parks and Recreation
8. Mindy Kaling, The Mindy Project
9. Kerry Washington, Scandal
9. Patricia Heaton, The Middle
11. Tina Fey (tie), Unbreakable Kimmy Schmidt
11. Emily Deschanel (tie), Bones
13. Pauley Perrette, NCIS
14. Robin Wright, House of Cards
15. Zooey Deschanel, New Girl
Money talks: The lack of color on this year's list suggests the TV industry still has a ways to go toward attaining some semblance of racial and gender equity.
Whiteness aside, the drop in earnings among actresses ranked lower than the top spot also remains significantly larger than that of their male counterparts, whose earnings Forbes calculated in August. The 15th-ranked male actor (Kevin Spacey, who earned $9.5 million) made nearly twice as much as the 15th-ranked actress (Zooey Deschanel's $5 million).
The racial demographics for film actors are even starker: Of the 18 highest-paid actresses in the world, only one — Fan Bingbing — is a woman of color.
These figures come at a time when networks in the U.S. are starting to invest more vigorously in diverse programming, and when studies, such as the annual Hollywood Diversity Report conducted by the Ralph J. Bunche Center for African American Studies, are finding that racial diversity onscreen translates to higher ratings and more money offscreen. 
That both Kaling and Washington made the list while starring in their own TV shows suggests those investments are paying off, both for them and for their networks. Vergara has similarly emerged as Modern Family's most popular and bankable actor, and has parlayed her role there into a successful endorsement career as well.
The greater gap: Meanwhile, women in the U.S. on average continue to earn just 78% of what men make. For women of color, that gap is even more pronounced — Hispanic women earn 54% of what white men do, while black women make 64%, according to the Center for American Progress.
Even among women, disparities persist along racial lines. Women of color are more likely than white women to work in low-wage and service industry occupations. This phenomenon that has gained increased attention during the recent fast food worker strikes and has become an integral part of "Fight for $15," which aims to raise their minimum hourly wage to $15. 
The federal minimum wage is $7.25 per hour. For contrast, the women on this list made an average of $11 million last year.