Ellen DeGeneres Says Caitlyn Jenner Is Still Judging Gay People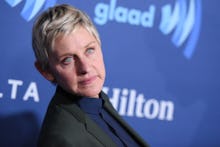 Comedian and talk show host Ellen DeGeneres may not see eye to eye with reality TV personality Caitlyn Jenner when it comes to their views on same-sex marriage. On Tuesday, DeGeneres told Howard Stern on his SiriusXM show that she thought Jenner "still has a judgment about gay marriage."
DeGeneres, who interviewed the Olympian gold medalist for the season premiere of The Ellen DeGeneres Show, which aired Tuesday, told Stern she found Jenner's calling herself a "traditionalist" when it came to marriage "surprising" and perhaps hypocritical. DeGeneres married actress Portia de Rossi, best known for her role as Lindsay Bluth Fünke on Arrested Development, in 2008. 
"I said, 'You're wanting people to understand and accept you — this is, like, really confusing to people. And you still have a judgment about gay people and marriage,'" DeGeneres told Stern. "She goes, 'Well, if the word 'marriage' is that important.' It is. That's the word. We want the same thing."
During DeGeneres' pretaped interview with Jenner, the reality star, who is transgender and a Republican, said her views on marriage equality have evolved. "I don't ever want to stand in front of anybody's happiness," Jenner told DeGeneres. "That's not my job. If that word 'marriage' is really, really that important to you, I can go with it."
Jenner also talked coming out as transgender and living as her "authentic" self while recognizing that her experience transitioning was not the norm for transgender people. Jenner has made tens of millions of dollars throughout her career as an athlete and reality show star, Heavy reports. 
"I'm just a very lucky person in so many ways," she told DeGeneres. "My experience has been so different than the people in this community." Jenner received the Arthur Ashe Courage Award in July, one month after she came out as transgender. 
Watch DeGeneres' interview with Stern below: