In One Quote, Designer Shayne Oliver Sums Up Why the Future of Fashion Is Gender-Free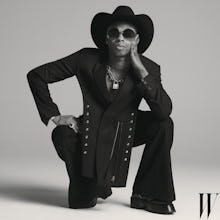 Glamorous, familiar icons from Hollywood may grace the cover of W magazine's new October issue, but you'll have to take a peek inside to find the most succinct and badass quote to date about fashion today.
Photographed wearing a vest and a pair of flared pants of his own creation, Hood by Air founder Shayne Oliver blasted the concept of gender boundaries in fashion, outlining what sounds like the future.
"Design-wise, I don't have any boundaries when it comes to gender," he told W. 
"My friends wear bras — and they're men. Menswear is not glamorous, and womenswear is, so why not mix the two together? When men wear my clothes, they say, 'I can rock a dress and still feel handsome.' Once you get that vibe going, the style just falls into place naturally."
His point: Why care about gender rules when the clothes themselves work for anyone? 
W's second annual "The Royals" issue, which has Julianne Moore, Greta Gerwig and model Jourdan Dunn on the cover, cites Oliver as one of the members of "new fashion royalty," with designer Anna Sui honored as his more established predecessor. While Oliver may not be a household name, he's caught fire with the likes of Drake, Rihanna, A$AP Rocky and Kanye West.
The look? Think those slouchy pants and long tees Kanye loves so much, along with other laid-back, androgynous styles. Oliver has been striking a subtle gender-neutral tone for years — except now, everyone else is catching on.
Gender-neutral is the future: Oliver may be one of the most popular designers to focus on blurring fashion's gender standards, but he's certainly not the only one.
Just last month, market research firm NDP Group released a report, "Blurred Lines: How Retail Is Becoming Less Gendered, and Why You Should Care," that clearly indicated that young consumers are more inclined to see gender as a spectrum and become detached from the labels "male" and "female." 
The movement is expressing itself in clothes, and not just from edgy, high-end brands. Entire fashion lines and campaigns recently are rooted in the gender-neutral ideal, including New York's 1.61 and Telfar and the Los Angeles brand 69 Worldwide. 
Across the pond earlier this year, British department store Selfridges launched a temporary agender pop-up shop called Agender. 
As Mic reported earlier, the trend is finding its home in athletic wear, given the already gender-neutral offerings it provides, with the NDP report noting, "A hoodie is a hoodie, and a beanie is a beanie, and we often see men and women sporting the same classic fleeces from these brands." 
As New York Fashion Week kicks off, that's one trend we can predict. The New York Times noted that we can expect Telfar's gender-free "one-look-fits-all collection of off-the-shoulder tank tops, trench coats and lace-like denim tops and trousers on a cast of androgynous models." We can also expect the models themselves to cross gender lines: In June, design team Public School was applauded as one of several men's designers that put female models in their show.
Now, with the designer behind some of hip-hop's most fashionable stars speaking out, the movement for clothes that know no gender boundaries could very well be unstoppable.