Azealia Banks Doubles Down After Defending Donald Trump's Immigration Stance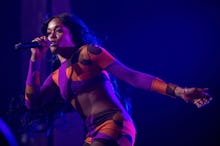 Azealia Banks doubled down in her defense of presidential hopeful Donald Trump on Wednesday, two days after the New York rapper took to Instagram to ask her 438,000 followers whether they thought it was "bad" she "sort of" agreed with the controversial Republican frontrunner's views on immigration. On her Twitter account, Banks, 24, said Mexico would be better off were the United States not "playing foster parent." 
"Mexican society will never be able to save itself if America keeps playing foster parent," Banks tweeted  Wednesday. Banks had previously tweeted, "Maybe if they [Mexicans] don't have the ability to escape to the U.S. they'll plan, organize and overthrow the government." 
Trump has repeatedly called for imposing stricter limits on immigration, including overturning the so-called "birthright clause" of the 14th Amendment that allows people born in the United States to automatically become a citizen, as well as building a wall along the U.S.-Mexico border. Banks first defended Trump in a series of Instagram posts Monday, writing, "Do you think it's bad that I sort of agree with Trump's stance on immigration?"
Banks said the basis of her defense was the U.S. government's not paying reparations to the descendants of the millions of African men, women and children who were brought to the United States as slaves between 1525 and 1866. She said the government shouldn't spend money supporting undocumented immigrants "for any reason other than black Americans still not having been paid reparations for slavery." 
"It's selfish, but American has been really good at convincing me that everyone else's problems are more important than my own," Banks wrote. 
Banks followed up with a comment about "compassion" for others having led to black Americans' "current misfortune." She said self-preservation was "key." 
Conservative advocates have frequently claimed immigrants are a strain on U.S. resources and cost U.S. taxpayers tens of billions of dollars every year, ABC News reports. 
However, under U.S. law, undocumented immigrants are not eligible for food stamps, Medicaid or welfare, among other federal benefits, CNN Money reports. At the same time, the average cost of deporting a single immigrant is about $10,070, according to the Center for American Progress.