San Franciscans Flip Anti-Chinese Graffiti Into Words of Support and Love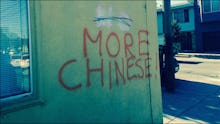 Someone has been spray-painting the phrase "No more Chinese" on various walls and buildings throughout San Francisco's Portola and Bay View neighborhoods in the last week.
Now, some locals are fighting back — and they're doing so in the most San Francisco way imaginable:
Culture blogger Angry Asian Man has documented a series of interventions where instances of the racist graffiti were painted over with a touch of what the city's been known for since at least the summer of '67: Love!
Seriously: In multiple places, "No More Chinese" was surreptitiously replaced with phrases like "[Heart] More Chinese" or simply "More Chinese!" — before promptly being scrubbed off by city workers and documented by police as part of an ongoing hate crime investigation.
This spate of graffiti comes less than a month after Twitch founder Justin Kan had the phrase "Fuck you Gook!" written in black marker on his garage in the Duboce Triangle neighborhood by a white, bearded stranger. The crime was caught on security camera, as Mic reported previously.
Justin's brother, Damien Kan, told Mic that he and his brother have since painted over their garage door using blackboard paint, and are planning to have children from a local school write uplifting messages over it. 
"Turn that negative into a positive," Damien said.
Meanwhile: San Francisco continues to undergo a drastic series of demographic shifts precipitated by an influx of young tech professionals in recent years. According to SFist, by some estimates, the city's median rent prices jumped 13.5% in 2014, with the median one-bedroom apartment now going for $3,500 per month.
As the city becomes the go-to nesting zone for Silicon Valley's elite, intercultural conflict has arisen in spaces ranging from tech commuter buses' contested use of public transportation routes to the now-viral argument between Dropbox employees and local youth in the Mission district over the use of a soccer field.
The Portola district — where some of the graffiti was found — has long been framed as a "hidden gem" of San Francisco's southeast corner, home to an increasing Asian population that in 2009 constituted about half of the neighborhood, according to SFGate. The investigation into who is responsible for the graffiti is ongoing. Meanwhile, the rest of San Francisco continues to let love prevail.
UPDATE, Thursday, Sept. 10: San Francisco police late Wednesday arrested John Schenone, 62, and booked him on five counts of felony hate crime and five counts of felony vandalism in connection with the graffiti. He is currently being held in County Jail.
h/t Angry Asian Man