Lana Del Rey: New Songs Released for Honeymoon Tracks "Freak" and "Music to Watch Boys to"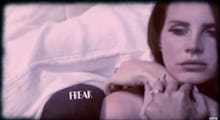 It may have only been a year since Lana Del Rey's Ultraviolence, but fans are already anticipating the artist's latest album, set for release Sept. 18. 
On Tuesday afternoon, the "Brooklyn Baby" singer teased two songs, "Freak" and "Music to Watch Boys to," from her upcoming project, Honeymoon. The sample comes with a video combining both songs into a dreamlike sequence as the performer's voice echoes throughout.
Both songs sound similar to the artist's last two projects, Ultraviolence and 2013's Die For Me, and the video won't disappoint Lana fans. The singer croons, "Baby if you wanna leave, come to California, be a freak like me too" while a group of women appear to massage her on a beach.
Fans immediately took to social media following the surprise release, expressing their everlasting love for the singer.
Check out the full video below: