14 Sex-Positive Anthems That Will Teach You What You Need to Know About Lesbian Sex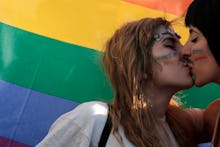 It's not a one-time-only deal. It's not always "titillating." It's real, and it's spectacular. 
Though songs like Katy Perry's "I Kissed a Girl" give a wink and a nod to sexuality between women, the truth is that some girls want to do a whole lot more than just kiss. And they want to talk about it. 
Lose the male gaze. Yes, men exist and they're important, but queer female sexuality is not a show for male onlookers. Songs like Miley Cyrus's "Bang Me Box" off of her surprise album Miley Cyrus and Her Dead Petz show the pansexual singer singing an ode to girl-centric pleasure. 
The lyrics? 
Want to lick it so much that it's almost like I taste it on the tip of my tongue
Those lyrics are the latest in a long history of desire-driven, woman-centric songs that talk explicitly about lesbian sexuality and the social consequences of practicing it. 
Ma Rainey, "Prove It on Me" 
In 1925, after a police raid on her house where she was reportedly in the middle of an orgy with several of her chorus women, blues singer Ma Rainey wrote the song, "Prove It on Me." In the song, she proudly flirts with another woman in front of a police officer. She dares the police officer to prove she's a lesbian, while also proudly claiming that she "don't like no men!" The Harlem Renaissance had many lesbian figures besides Rainey, like Gladys Bentley and Bessie Smith, though many were not out due to legal restrictions and social mores. 
Key Lyrics: 
Folks say I'm crooked. I didn't know where she took it
God-Des & She, "Lick It" 
Every journey begins with a single step, and for those hoping to become masters of cunnilingus, lesbian hip-hop duo God-Des & She offer a 101 in their instructional rap "Lick It." The spitfire lyrics are a how-to in giving your girl the pleasure she deserves. 
Key lyrics: 
Spread out her lips before you kiss
Then you know that you found a good spot
k.d. lang, "Constant Craving"
In 1992, the same year lang came out to the Advocate, she released the song "Constant Craving" from her album Ingénue. The video for "Craving" went on to win best female video at the MTV Video Music Awards. Though the song is not explicit, the lyrics can be read as suggestive, whether they be about sexual craving or the desire to be free.
Key lyrics:
Even through the darkest phase
And constant craving has always been
Melissa Ferrick, "Drive" 
There's nothing ambiguous about Ferrick's lyrics. Ferrick admitted that this song, and its parent album Freedom were greatly influenced by Janet Jackson's Velvet Rope, which had a lot of overtly bisexual themes. Over a thumping dirty bass, Ferrick breathes and moans her way through these raunchy verses. 
Key lyrics: 
Your mouth waters
P!nk featuring Peaches, "Oh My God" 
Though not openly lesbian or bisexual, P!nk teamed with gender-fluid musician Peaches for this going-down ode from her 2003 album Try This. Like a lot of sex, it's just hella fun. The two women zig zag back and forth, speaking out their mutual sexual desires; this definitely doesn't feel like a one-time thing. 
Key lyrics: 
I understand it all, now climb my sugar walls
Tribe 8, "Femme Bitch Top" 
Tribe 8, which takes its name from the word "tribade," the act of rubbing your vulva on your sexual partner for pleasure, was an all-girl queercore punk band. They were known just as much for their antics as for their music, like when lead singer Lynn Breedlove would perform topless wearing a strap-on dildo. But their music is undeniably kinetic and sexual, like their song "Femme Bitch Top." 
Key lyrics: 
Put your face between her tattooed breasts
Kehlani, "First Position"
Kehlani, an Oakland, California-based singer signed to Atlantic Records, released "First Position" in early 2015. It is perhaps revolutionary because it treats queer sexuality as ordinary as heterosexuality. Instead of singing to a guy, all of Kehlani's advances are toward a girl who she wants to put into "first position." 
Key lyrics: 
Girl let me put you on with something real
Fun Home, "Changing My Major" 
Not a sexy song at all, "Changing My Major" is a popular cut from the Tony-winning Broadway show Fun Home, adapted from Alison Bechdel's graphic novel. The song takes place after Alison wakes up from her first sexual encounter with a girl in college. While not explicit or something you would play in the bedroom, the lyrics do nail the moment when sex feels right for the first time. 
Key lyrics: 
I got so excited. I was too enthusiastic. 
Meshell Ndegeocello, "Beautiful" 
This slow burn, Sunday-afternoon song is off Ndegeocello's 1999 album Bitter. With barely three sentences worth of lyrics, the song embraces mood, pauses and tone to convey Ndegeocello's sense of contentment with her lover, while also longing to touch her body even more.
Key lyrics: 
May I kiss you there
Amanda Palmer and the Grand Theft Orchestra, "Do It With a Rockstar" 
Palmer may be married but the bisexual singer still can cut loose. In this play on the typical rock star fantasy, Amanda fantasizes about indulging in a tryst with a fan. In the video, that fan is Stoya, who Palmer met and immediately asked to make out with her for the video. 
Sophie B. Hawkins, "Damn I Wish I Was Your Lover" 
Released the same year as lang's "Craving," Hawkins' "Damn I Wish I Was Your Lover" is a description of everything the omnisexual Hawkins would do to her lover — if only she could get her. The song rose to No. 5 on the Billboard Hot 100, showing that same-sex desire does indeed have a place in the mainstream. 
Key lyrics: 
If I was your girl, believe me
Azealia Banks, "212" 
Before all the controversy and the endless tweeting, openly bisexual Azealia Banks was a girl from Harlem, New York, who released a banger about a sexual experience with a woman. The song became Pitchfork's ninth best song of 2011 and the Guardian's runner-up for best song of the year.  
Key lyrics: 
I just wanna sip that punch with your peeps and
Melissa Etheridge, "All the Way Home" 
Yes it sounds unbelievable that an Etheridge song was so racy it got banned from playing in Barnes & Noble bookstores, but "All the Way Home" is that song. It's still not as raunchy as other songs on this list; the song describes Etheridge driving home extremely fast to make love to her partner. Yeah, it's about domestic bliss, but it's also about the urge to touch your partner's body right now. 
Key lyrics: 
I got lightening in my eyes and a fire down below
SIYA, "Heaven" 
SIYA, an out lesbian rapper who is also a star of Oxygen's "Sisterhood of Hip Hop" cast, released her first mixtape in February. But years before that, she released "Heaven," an ode to flirtation with another girl in the club. With a smooth, rolling beat and breathy rap-singing, the song is as enticing as SIYA's words. 
Key lyrics: 
Where'd the time just go? 
Want to listen to these songs all day? Check out the Spotify playlist below.