Ronda Rousey Will Fill Patrick Swayze's Shoes in a Remake of '80s Cult Hit 'Road House'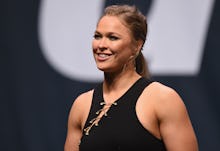 The world of MMA fighting just isn't big enough for national sensation Ronda Rousey. She's ready to knock out the box office competition too.
Both Variety and SB Nation are currently reporting that Rousey will star in a remake of '80s cult classic film Road House. The remake will find her stepping into the role previously inhabited by the late Patrick Swayze in a bit of gender-flipping.
In the original Road House, Swayze played a bouncer with a past who becomes something of a vigilante for the citizens of Jasper, Missouri. The movie was perhaps best-known for its intense fight choreography, with Swayze positively pummeling his opponents.
It will be interesting to see how the movie plays out with a gender-swapped lead. For the producers, it's a smart move: Not only is Rousey a huge name in sports right now, she's also so different from Swayze that comparisons will be harder to make. This remake will be able to stand on its own.
Rousey is undefeated in the ring, but she'll now need to survive at least two rounds in the cinemaplex to maintain her reputation. She's also set to star in a biopic about her own life based on her autobiography My Fight/Your Fight. She's not new to film: Rousey appeared in the Entourage movie this year. She's also reportedly in discussions to join Mark Wahlberg's new action movie Mile 22.
We'd place our money on Rousey to win over movie audiences. Even she finds acting is tougher than initially expected, she's not one to go down without a fight.