Apple iPhone 6S: Release Date, Price, Live Photos, Features and Camera Update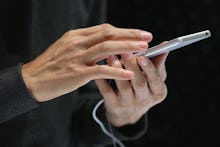 Apple released the highly anticipated latest version of the iPhone on Wednesday during the company's September keynote unveiling event at the Bill Graham Civic Auditorium in San Francisco.
The iPhone 6S comes in four different metal finishes: silver, gold, space gray and rose gold. The phones also come in two different sizes, just like their predecessors, the iPhone 6 and iPhone 6 Plus. Among its many improvements, the iPhone 6S and 6S Plus feature the newest A9 chip, a third-generation, 64-bit chip that is 70% faster than the previous model. 
The iPhone 6S also features 4K, HD-quality video, as well as a 5-megapixel and high-definition front-facing camera. Retina flash is souped up as well for the so-called selfie camera, with a "true tone" feature that allows the LED screen to flash three times brighter than normal for images taken using the camera in low-light settings. 
"Live photos" is a new feature available on the latest iPhone as well. The feature extends the capture time for a photo for a few moments, making shots appear to come to life. 
An all-new 12-megapixel iSight camera boasts 50% more pixels than the iPhone 6. The new camera processes light differently, allowing for noise reduction and greater emphasis on colors in HD-quality images. 
The latest iPhone will also have something Apple's calling 3-D Touch. The feature provides access to shortcut menus and creates a more efficient user experience, the company said. The new functionality of the iPhone allows users to control their phones in new ways to access common features, including taking selfies and opening specific directions on Google Maps. Users can also use 3-D Touch to access apps.
A new feature called "Hey Siri" allows iPhone 6s users to speak to Siri without having to even touch their phone. The phone operates on iOS9.
The iPhone's new price matches its predecessors when they were first launched last year. The iPhone 6S price will start at $199 with a two-year contract and will be available in most countries beginning Sept. 25 with pre-orders beginning Sept. 12. The iPhone will roll out to more than 136 countries by the end of the year. A new upgrade program that allows Apple customers to receive a new iPhone each year was also unveiled for only $32 per month.