The Hermes Apple Watch Proves Apple Won't Stop Until We Think It's Stylish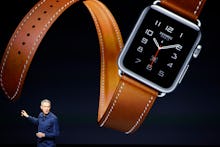 Let's be real: The Apple Watch has always been a luxury. But now Apple's stepping it up to a whole new level by bringing the big guns in: Hermès.
During Wednesday's Apple launch, which included a $100 stylus (what is it, 1999?), Apple also revealed a new stylish band and face for the Apple Watch designed by the luxury French retailer Hermès. You know, the designer label that sells five-figure bags on the regular. 
The watch will cost between $1,100 and $1,500, depending on the style, and will hit stores October 5. (A regular Apple Watch goes for at least $550). And it won't be everywhere: According to Bloomberg, the Hermès edition will be "limited to select retail stores."  
But one thing Apple wants all of us to know: They really, really wants us to think the watch is stylish.
Jonesing for a seat at the fashion kids' table: This is the first time Apple Inc. has partnered with a luxury brand for a major product, but we've got a feeling this won't be their last. This appears to be just another step in Apple's plea to the public to consider the Apple Watch a true stylish accessory (not something that you can just order Chipotle super quick on).
Proof of their efforts is in the C-suite. Earlier this year, Apple made waves by hiring Burberry's Angela Ahrendts to oversee the company's retail operations. Before that, ahead of the watch's creation, they hired an Yves Saint Laurent alum, Paul Deneve, as vice president of special projects. 
Apple has always been about aesthetics and "cool" (remember those berry-colored desktop computers?). But the latest efforts have tried to appeal specifically to the fashion luxury world, turning their products into even more powerful status symbols.
"When we created the Apple Watch, we knew we had to be an expression of your personal taste and style," Jeff Williams, Apple's senior vice president of operations, said during the launch. 
Is Apple missing the point? Up until this moment, however, it hadn't really worked. Fashion is all about exclusivity, rarity and — to be quite frank — inconvenience. Form trumps function in high fashion, and the aesthetic details are more important than the overall usefulness. 
"At the biggest fashion houses in Europe, there is a general disdain for the connected future that the tech world fetishizes," Racked's Leslie Price noted in February, adding, "Selling function isn't something the fashion industry typically does. It sells a story, an identity, a new look."
By linking up with Hermès, Apple might start understanding that reality. The new Apple Watch will reportedly  feature the French company's signature camel leather straps, with that double wrap, and a trio of options for the face, which will harken back to the retailer's roots. 
It's also bound to be prohibitively expensive.
By picking one of the most exclusive designer brands in fashion, Apple is trying its damnedest — but it still might not woo the most stylish among us. The Hermès announcement wasn't met with exuberant reactions in Wednesday's presentation in Cupertino, and the online excitement didn't seem to match that of, say, an H&M designer collaboration. 
Sept. 10, 2015, 8:01 am: This post has been updated to include the price and release date of the Hermès Apple Watch.