DAM Has Been Using Hip-Hop to Fight for Palestinian Independence for Over 15 Years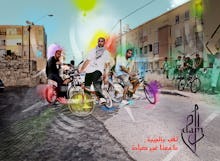 The situation in Palestinian territories hasn't been stable for over 50 years. For the past decade-and-a-half that Israeli-Arab Tamer Nafar has been rapping, he's witnessed violence, discrimination and fear. These impact both Israelis and Palestinians — one side suffering more than the other, he believes. The struggle hasn't changed; if anything, he feels, the situation is getting worse. 
The way Nafar captures the situation in his music has changed, however. "The politics have not developed, but our creation, our art must develop," Nafar told Mic.
With his group DAM (Da Arabian MCs), Nafar invented Arabic hip-hop back in 2000 to speak to the inequalities and injustices he saw taking place in his community. The group — which also includes his brother Suhell Nafar, Mahmoud Jreri and the most recent addition Maysa Daw — recorded the language's first flows expressing Palestinian pain with a documentary-like vividness. "Now we're moving into surrealism," he said. "We are humanizing the song now."
The urgency of their subject matter and their constant willingness to experiment with hip-hop forms has positioned DAM as one of the foremost leaders in global hip-hop for the past 15 years. Their music has provided a vital window into what the struggle looks like on the ground — as relevant today as ever.
Inventing Arabic hip-hop: Nafar didn't start rapping straight politics when he formed the group back in 2000. His need to express his political views grew with the tension. He started out a member of a small Jewish-Israeli hip-hop scene, writing his first songs in Hebrew, dealing with the problems he saw in his neighborhood. 
"I was writing in the beginning about drugs, because Lod, my neighborhood, was the biggest drug market in the Middle East. We may have lost that title now," Nafar said. "It wasn't strictly politics. It was about the poverty, the police brutality. It wasn't never Palestinians, Israelis, blah, blah. It was there, but it wasn't everything."
He would interject quick lines into his verses to reflect the inequalities he saw, such as: "'They won't let me into the club because I am Arab."
His entire lyrical philosophy changed during the second intifada in 2000, when Palestinians made their attempt to shake off the Israeli military occupation. Nafar describes the death tolls he watched roll in and felt he couldn't stay quiet on the issue. "That's when I decided to write the first political song to ask, 'What is happening?'" he said.
Nafar's very first political song "Innocent Criminals" deals with complicated questions surrounding the morality of violent protests. The song admits Palestinian protestors' use of violence is a crime, but it is an innocent crime, he said.
"For me it is [Palestinians] are pushed to do it. They don't have an army to do it for them. If the Israeli army kills two thousand citizens, it's legit. But if the Palestinians kill one Israeli citizen, it's also wrong, but it's not legit," he said. "The lyrics were: 'Before you judge me / Before you hug me / Before you punish me / Walk in my shoes and you're going to hurt feet / Because we are criminals, but innocent.'"
DAM's early hits such as "Innocent Criminals" and "Who's a Terrorist?" gave voice to the Palestinian struggle and provided massive visibility for the group — perhaps before they were ready professionally, Nafar said. Despite a growing global fandom, they faced resistance at home. Israeli authorities shut down some of their early shows, and the group has faced much censorship in distribution.
"You have 25% Arabs here. We pay 25% of the taxes, but we don't get 25% of the radio air time," Nafar said. "For me, that's the Israeli mentality of peace. They want peace, but we are not invited. They want to hear songs about co-existence, but don't want to hear the Arabs in it."
One of their most recent creations is "Mama, I Feel In Love With a Jew," a song written in English with a video coming this October. It explores this idea of co-existence through a symbolic romantic relationship between a Palestinian man and a Jewish woman. Between the romantic declarations, many of the lines still contain a decidedly confrontational bent: "She wanna be a pilot, search the sky / My dream is not to be searched every time I fly," Nafar raps. "She said 'Without the sniper lens, you look cute too.'"
It's the kind of love song only DAM could write.
Over the years, critics have praised DAM for their efforts to channel his rage into art rather than into violence, but Nafar finds this praise shortsighted. He had a choice, while others have none.
"I don't think it's fair," Nafar told Noisey in a recent documentary on the group. "Do you know how many rappers in Gaza cannot leave their homes to go to the studio because they are under siege, for example? What the fuck would you tell them?"
While DAM continues to perform for these affected populations throughout the West Bank and Gaza, Nafar is working on sharing his group's story with a wider audience than ever before. He's putting the finishing touches on a currently untitled feature film he wrote along with Oren Moverman, writer of The Messenger and Love & Mercy. Nafar describes it as the "Palestinian 8 Mile," covering his creation of Arabic hip-hop. It will likely tell a powerful story of the impact music can have. 
DAM has managed to paint a portrait of the Palestinian struggle in vivid detail for all those far removed from ground zero. That's something all hip-hop, from the Middle East to the United States and back again, has tried to do since day one.