iOS 9: Apple's Latest Operating System and Features Will Change How You Use Your iPhone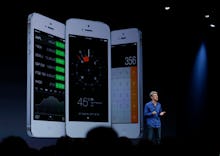 During Wednesday's Apple keynote event in San Francisco, Philip W. Schiller, Apple's senior vice president of worldwide marketing, announced the new iPhones 6S and 6S Plus as well as the new iPad Pro will be the first editions of the iPhone/iPad series to launch with iOS 9 as their operating systems. 
The new software has already released for developers to begin creating new apps for devices operating with iOS 9 before its full Sept. 16 public release date.
Its features will change the way you use your devices: Along with a number of other upgrades, the new operating system will let users to enter a "low power" mode, saving heavy-data consumers battery life for extended periods of time, thereby answering the common "Ugh, does anyone have a charger? I'm out of battery" complaint most iPhone users know. The low-power mode will block automatically refreshing apps from continuing to take up battery life while not being actively used as well as limiting push notifications and email updates. 
What's more, iOS 9 will improve the way Apple customers use apps currently available on the iPhone, including Apple's maps service. The new maps will offer real-time updates for public transit, with the exact entrance for users to enter being readily available.
Perhaps the most fun feature for some users, GIFs (or moving images like "live photos," the new moment-capturing photo tool the iPhone 6S will have in its camera app) will be able to be used as lock screens. 
Its functionality improves the user experience: Apple is also stepping up the search-results sphere by creating a new feature called "proactive search" for its latest operating system. Users will be able to find more accurate results for preferred apps, store locations, directions and web search based on the user's history.
iOS 9 will also allow some apps to seamlessly mesh together with the swipe of a finger, like Notes, where users will soon be able to add maps, photos and videos to their records.
Although most of the separate enhancements featured in the iOS 9 upgrade aren't entirely groundbreaking, the combined features poise iOS 9 to be the next big thing in the tech world. 
iOS 9,will be released for existing devices Sept. 16 and will come standard on the iPhones 6S and 6S Plus when they're released in stores nationwide beginning Sept. 25.