Can This Quiz Predict If You Have STIs? Maybe — But You Should Probably Already Be Able To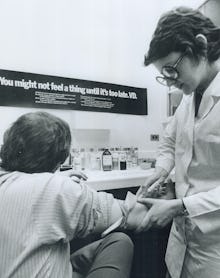 If you are reading this, you probably have herpes — or another sexually transmitted infection, for that matter. 
Don't panic; it's not just you. An estimated two in three adults under the age of 50 worldwide have herpes simplex virus type one, an extremely common type of the herpes virus that can be sexually transmitted. According to the Centers for Disease Control and Prevention, incidences of chlamydia, gonorrhea and syphilis have also gone up in recent years, though thousands of cases still go undiagnosed and untreated. 
It's a pretty big problem, given that each of the most common STIs can potentially cause serious health problems. But it's not one that can't be fixed. In fact, we already have a key part of the solution: People who are at risk for STIs just need to get tested. 
So how do you know if you're at risk? For young women, however, figuring out whether or not they should get tested might be getting a little easier — they just have to take a little "pop quiz."
In 2009, researchers at Johns Hopkins University developed a short test to evaluate teens' and young adults' STI risk, in order to encourage more people to go out and get screened. The quiz came as part of the "I Want The Kit" campaign, a coordinated effort to make at-home STI screening kits available to young people who might have concerns about medical privacy. 
The quiz asks users about their basic sexual behaviors, such as their number of recent partners and how often they use condoms during sex. It then calculates their STI risk on a scale of 0 to 10, or from low to high. A recently published study examined the effectiveness of the quiz based on a three-year study, and found that it actually does a great job of predicting whether or not the test-taker is at high risk of contracting an STI — at least, if she's a woman. 
Led by Charlotte Gaydos, a professor of medicine at the Johns Hopkins University School of Medicine, the study examined the correlation between participants' quiz results and their STI statuses, predicting that people who scored higher on the test would be more likely to screen positive for three different STIs (chlamydia, gonorrhea and trichomaniasis). Gaydos and her colleagues found that women who scored "high" on the risk quiz were four times more likely to test positive for an STI than those who scored lower; women who scored "medium-high" were twice as likely to test positive. 
For men, the quiz wasn't a great indicator of whether or not they'd contracted an STI, something Gaydos and her team plan to continue researching. "We are not quite sure why this is," she said in a statement, "but untruthfulness or the fact that men tend to have lower rates of STIs are possibilities." 
The study has its flaws, such as the fact that participants had to volunteer to take the quiz, then take the at-home screening test and send their swabs to Gaydos' lab for results. Still, the quiz could be an important tool for young women to easily and privately determine not just whether or not to get tested, but rather how perilous it might be if they don't. 
"We test a lot of people who are not infected, and although a tool like this might not predict every single case, we think it can be helpful in rapidly predicting the likelihood of an STI for physicians and patients," Gaydos said in the statement.
Why do young people need to take a test to figure out whether their own sexual behaviors are risky?
But the study findings and the quiz itself raise another important question: Why, exactly, do young people need to take a test to figure out whether their own sexual behaviors are risky? Shouldn't they already know that engaging in sexual activity with multiple new partners and sporadic condom use, for instance, makes them more likely to contract an STI? Why yes, they should — but chances are they probably don't. 
Given the abysmal state of sex education in the U.S., where 31 states don't require schools to offer comprehensive sex ed, teens and young adults simply aren't getting the information they need to take charge of their sexual health. A recent CDC report confirmed it, in fact, concluding that American public schools are straight-up failing to teach students about condoms or safe sex, two things that greatly reduce the risk of contracting or transmitting an STI. 
The STI risk quiz could do wonders for making young women better informed about their sexual health. But it might not be necessary if they knew more about the real risks of sexual activity in the first place.