Here's the Behind-the-Scenes Action You Didn't See From Wednesday's Apple Event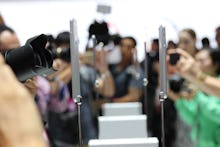 Attending an Apple launch is Silicon Valley's version of the Running of the Bulls, only the charge isn't full of angry, snorting animals. This pack is made up of adherents — in some way or another — to the Cult of Apple. Pushing, clicking, tweeting and gawking, this herd is here for pretty gadgets and middle-aged men in dad jeans and button-down shirts.
The pack set up shop Wednesday morning at the Bill Graham Civic Auditorium, an imposing, 7,000-seat venue in San Francisco. They were there for Apple's latest "special event," a regular occurrence during which the company reveals new products and drums up buzz. Wednesday's episode was the first to use this auditorium; Apple typically opts for more intimate venues with smaller space capacities. But this year, the powers that be decided to go big, and the goings-on — splashy, peacocky — showed it.
Outside expectations, unsurprisingly, were high: spiffy new iPhone features, a gigantic iPad Pro, and a more-functional, gamer-friendly Apple TV. These products facilitate the daily communication, creativity and consumption in our lives. But, as is often the case with these affairs, the most fascinating tidbits at the event had little to do with the products themselves. 
It was a brief but clear glimpse into a world regarded with equal parts disdain and reverence.
The star attractions bobbed around below the surface: the colorful, role-specific Apple badges (teal, fuchsia, clementine, sand) marking subtle distinctions between attendees as they interacted; the artisanal Pop Tarts (really); the in-house team of security, caterers and cleaning staff making it all hum; the protests outside, Grim Reaper figure in tow, railing against Apple's labor policies; the high-heeled and cuff-linked fashion plates stalking around among the jeans and Adidas; the troubling gender dynamics at play on the big stage. 
It was an anthropological look into one of the great pillars of Silicon Valley, a brief but clear glimpse into a world regarded with equal parts disdain and reverence.
This is the thing about these Apple events: If you're not careful, you'll find yourself swept up in the theatrics.
Before the main show, people milled around, standing in circles, catching up with familiar faces. The buzz was palpable, and multiplied as the late stragglers entered Tim Cook territory. Fittingly, there was plenty of real-time self-documentation — Periscope was a hit and selfie sticks were ubiquitous. The soundtrack, a quirky mix of electronic, urban and alt-rock music, came from Beats 1 radio. Fuel came in the form of pastries, Odwalla juice, wraps, yogurt, Kind bars and the Power of Apple. Chefs were friendly but guarded. To talk to reporters, one told me, "We have to get permission."
Outside were numerous props and displays used for anti-Apple protests, though I encountered only one actual protester handing out fliers. (There was also a person dressed in a spacesuit riding around on a set of automated wheels, but they zoomed off before I could ask what they were there for.) 
Yet there was a distinct vibe of coolness amid the hullabaloo. People may well have been wigging out internally, but on the outside, they were portraits of serene enthusiasm. Despite the intensity of Apple fandom, there are unspoken rules for how much excitement one can exhibit. Wild applause in response to minute revelations is allowed, but jumping up and down with a new iPhone in hand is not.
Which brings us to the keynote itself. If you've ever watched a live stream of an Apple event, or seen old footage from the Steve Jobs days, you are likely familiar with the audience's ability to produce unbridled enthusiasm on cue. In real time, the effect is even more pronounced. The auditorium's spectacular surround sound helped, but most of the buzz came from the crowd itself — Apple employees, guests, journalists, developers, Joe Montana.
On Wednesday, the company one-upped itself, sort of, in Silicon Valley's farcical competition for gender equality.
When Cook took the stage, he brought to the table the same kind of calm fervor I'd seen on the faces of the attendees. He is not Jobs — and the differences between the two men have been pointed out enough — but the man owns his unique brand of nerdy cool.
Welcome to the stage: At the Worldwide Developers Conference in June, Apple made waves when it invited a woman to present for the first time. On Wednesday, the company one-upped itself, sort of, in Silicon Valley's farcical competition for gender equality. Three — three actual women! — strolled across the stage to give presentations: Irene Walsh, the head of design for 3D4Medical, Jen Folse, Apple's senior design producer and Michelle Peluso, the CEO of luxury shopping website Gilt.
And yet. During a presentation of Photoshop on the new iPad Pro, presenter Eric Snowden decided the model in the photo wasn't quite happy enough. To fix it, he manipulated the image to give her a bigger grin. It was bizarre, the software version of telling a woman to put a smile on her pretty face. The problem here wasn't the feature itself, but rather the tone-deaf — at best — decision to demonstrate it using a woman whose appearance wasn't cheerful enough for Apple's liking.
There were other odd moments, too, like when Folse joked she probably didn't look like much of a metalhead, or when Peluso laughed that her website saved her husband from having to spend his weekend at the mall. Because women listen to no one but Justin Bieber. And men don't shop; that's women's work. Even with more inclusion of women in the keynote, the narrative still played into harmful gender stereotypes. 
Following the parade of Apple executives and product reveals, which generally fell in line with the predictions, as well as a loud performance by One Republic, attendees were tasked with navigating the Running of the Bulls part two — the race to the showroom. There were two separate showcases, each bookending the auditorium, for the gear: one for the iPads, iPhones and watches, and another with separate pods designed to resemble living rooms for Apple TV.
I wandered around each showroom, trying out the pretty new toys as I went. After I returned from the Apple TV viewing — a scene oddly reminiscent of the movie poster for Poltergeist — I flopped down in a seat by the stage. Apple's Craig Federighi and his trademark shock of silver hair stood nearby, talking to a young man; reporters slumped against walls with their laptops and gear; Apple employees in red T-shirts gathered together to take a group photo.
A few minutes later, Federighi parted ways with his companion and moved toward the Apple TV showroom. His form, speedy and assured, disappeared into shadow as soon as he entered the wide, dark hallway. Unlike the rest of us, he had no pack of bulls to reckon with. He and his fellow executives, after all, can watch it from above.