R.E.M.'s Michael Stipe Blasts Donald Trump and Ted Cruz: "Go Fuck Yourselves"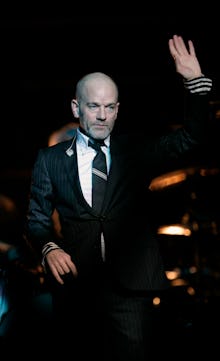 R.E.M. lead singer Michael Stipe and his former bandmates are not feeling shiny or happy about hearing their music used as an entrance song for Republican presidential candidate Donald Trump.
The divisive GOP frontrunner bounded onstage Wednesday to the tune of "It's the End of the World As We Know It (And I Feel Fine)" at the Stop the Iran Deal rally in Washington, D.C., on Wednesday. The tea party-sanctioned event also featured Sen. Ted Cruz (R-Texas), another primary competitor.
Hours later, Stipe responded.
"Go fuck yourselves, the lot of you — you sad, attention grabbing, power hungry little men," the R.E.M. frontman said through a representative in an email to Mic. "Do not use our music or my voice for your moronic charade of a campaign."
Stipe was not alone in his disgust. Immediately after Trump reached the podium, fellow founding member and bass guitarist Mike Mills was asked if he approved. He responded with a simple tweet:
Mills seemed to regret being dragged into the Trump campaign circus, and said so in another colorful tweet moments later:
The band, which broke up in 2011, posted a joint statement on their Facebook page:
There is a proud tradition of popular bands bristling at the use of their music by politicians jockeying for elective office. Only 24 hours before the R.E.M. dust-up, the 1980s band Survivor balked at hearing their song "Eye of the Tiger," typically known as the theme song from the movie Rocky, provide a soundtrack for Kentucky clerk Kim Davis, who had been jailed for refusing to issue same-sex marriage licenses.
Republican presidential candidates Mike Huckabee, the former Arkansas governor, and Cruz were both on hand for her release. Survivor's Jim Peterik, who co-wrote the song, tweeted his ire late Tuesday:
Other notably spurned political figures include New Jersey Gov. Chris Christie, a lifelong Bruce Springsteen superfan who has been alternately ignored and insulted by "The Boss" for his labor unfriendly, conservative policies, though Christie did manage to snag a hug at a benefit concert in the aftermath of Hurricane Sandy.
It would likely take a similar act of God to convince Stipe to embrace The Donald.