Bernie Sanders Overtakes Hillary Clinton in Latest Iowa 2016 Presidential Poll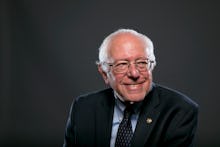 According to the latest Iowa poll conducted by Quinnipiac University, Sen. Bernie Sanders (I-Vt.) is currently the leading candidate among likely Democratic caucus voters in the state. But not by much: Sanders' lead, with 41% of those set to vote in February, is still within the margin of error of former Secretary of State Hillary Clinton's 40%. 
Although the new poll essentially indicates a tie between the two leading Democratic candidates, there is a stark difference between these results and other recent findings. As of Sunday, Clinton led Sanders in Iowa by 11 points (48% to 37%, respectively) according to an NBC News/Marist poll.
Politico reports Sanders has taken the lead from Clinton following weeks of negative press surrounding Clinton's use of a private email server during her time as secretary of state matched, with a mobilizing force in Sanders' campaign. While other candidates have seen low turnout at many of their events, Sanders saw over 100,000 guests at his rallies in July and early August, according to the Washington Post. 
Sanders isn't the only one whose name is throwing a wrench in the Democratic primaries. Vice President Joe Biden, who is believed to be considering a potential run for office, is another top contender in Iowa polls, although his numbers aren't as close to Clinton and Sanders. Twelve percent of those surveyed in the latest Quinnipiac poll indicate they would favor a Biden White House compared to Sanders or Clinton, giving the vice president a higher favorability than any of the other Democratic candidates announced so far aside from the leading two.
However, this isn't to say Clinton has lost her lead against Sanders in national polls. In fact, Clinton is still the top contender in the general elections, outperforming every single Democratic and GOP candidate (including Trump). 
The candidate has also changed her tone on the controversy over her private email servers, apologizing this week on ABC News' World News Tonight with David Muir. "I take responsibility and I am trying to be as transparent as I possibly can," Clinton told Muir.
The first Democratic debate, hosted by CNN, is Tuesday, Oct. 13, in Nevada, and is sure to provide further insight on who is most likely to take the Democratic ticket to the 2016 general election.