On the Internet, Anything Can Be a "Trend" — Just Ask the People Wearing Bonnets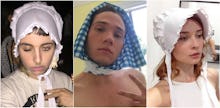 In the Internet age, it seems anything can be a "trend."
At least that's what we're inclined to think on the heels of #bonnetcore, a fashion "trend" for bonnets — yes, the headgear dating back to the 18th century that recalls Jane Austen or westward expansion.
The Internet is fast to declare trends left and right. Plastic bag onesies are a trend. Rainbow facial hair is a trend for dudes. Molding your hair into a heart shape is a trend. Christmas ornaments hanging from your face is a trend. It's exhausting to keep up. Some of these are invented, several photos thrown together by a media outlet ready to create a story. But some are "trends" in the smallest sense, a phenomenon embraced by the tiniest of enthusiastic groups, sometimes serious and sometimes not.
Bonnets are the latest and greatest (?) pseudo-trend to capture the Internet's attention — or at least one very small, very idiosyncratic, irony-laden corner of it. 
As Paper noted, bonnets first reappeared in a Spring 2015 fashion presentation for Vaquera, who was channeling a "domestic urban cowgirl" vibe. A wider, thicker-brimmed version found its way to Lily-Rose Depp's head for a fashion shoot, as well as the ironic head of digital artist Molly Soda.
Paper has called the fad a "trendlet" but it may not even be big enough to merit that name. Bonnet-as-fashion appear instead to be the epitome of an Internet subculture having a bit of fun, keeping something in the conversation for as long as it stays ironically amusing. 
As for bonnets specifically, the very idea takes the hipster embrace of all things old-timey (think mustaches, bowler hats) to its inevitable, nonsensical end. If 1920s suspenders and hats have come back in style, why not reach just a bit farther back to Little House on the Prairie?
"Trends" don't all apply outside of the Internet. I had to verify, for science, that a "trend" among a small, easily amused subset of the Internet does not a fashion trend make (despite Dazed's comparison of #bonnetcore to the very real #normcore). 
It's not exactly easy to score a bonnet — at least not in adult sizes — outside of costume shops and the annals of Etsy's handmade accessories page. Then, there's wearing it. After searching Amazon's marketplace for a good 15 minutes, I found an adult-sized bonnet with decent reviews for about $5. Three days later, it was in my possession and on my head as my partner giggled endlessly at me. I assured her she just didn't "get" #bonnetcore. 
The laughing got worse when I hit the sidewalk: Some kids from the local high school honked their car horn and screamed with laughter as they drove by me. 
#Bonnetcore might have reached its peak, about one month after the likes of artists Molly Soda and Zoë Ligon Instagrammed about it.
Some trends are better left online entirely, where a small group of enthusiasts can stay entertained from something fun and largely inconsequential until the next conversation-worthy thing comes along. 
After all, isn't that what the Internet is for?