Teen Girl Band Strikes Back After Contest Judges Say They Weren't "Sultry" Enough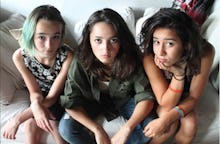 The band Kalliope Jones may not have expected to easily win the Northampton, Massachusetts, Battle of the Bands on Saturday. But the trio of 14- and 16-year-olds didn't know they'd be docked points for not being "sultry" enough on stage.
The scoring sheet provided to the band after they came in third place revealed that their showmanship rated poorly, the Northampton Republican reported Tuesday. While one judge praised the band's "good outfitting style" and the bassist and guitar players' "sultry" voices, the judges noted the band could have better used "the sultry to draw in the crowd," according to the report.
The members of Kalliope Jones were not having it. The musicians said on Facebook that they confronted the judges about their valorization of "sultriness." The judges, the band said, claimed "sultry" is "a positive thing" similar to being "soulful," which the teens quickly refuted. They pointed to Merriam-Webster, which defines "sultry" as "attractive in a way that suggests or causes feelings of sexual desire," making the critique not complimentary, but overtly sexual.
"A woman's sex appeal, or anyone's for that matter, should not be the defining factor in their success in the music industry," band member Amelia Chalfant, 14, wrote on the band's Facebook page. "In addition to that, we are children!"
The band said the critique was inappropriate and personally demeaning, as well as evidence of a broader sexist double standard, since none of the all-male bands received similar notes. 
"No one felt the urge to talk to the 14-year-old adorable boys to grind their hips a bit more," Katryna Nields, mother of one of the band members, wrote on the Facebook thread, according to the Republican. Notes advising the band to "practice; to write catchier songs; to have better transitions" are permissible, she said, but critiquing the teens' sexuality "is a double standard that goes far beyond the music business."
"This conspicuous act of sexist and stereotypical thinking was deplorable and pathetic," the band members wrote. "To be judged on our sex appeal and told that we need to be more sexy in order to make it as musicians goes against everything we have been taught."
Regardless of what these judges say, these girls rock: 
h/t The Frisky